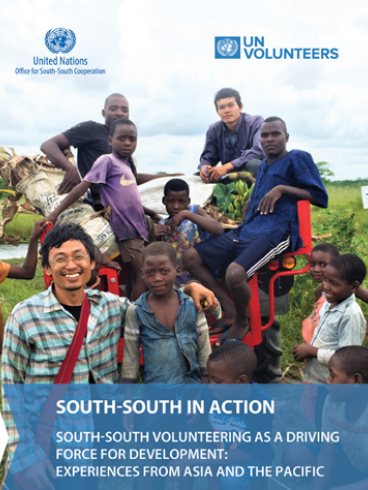 Case studies
South-South volunteering as a driving force for development: Experiences from Asia and the Pacific
South-South Cooperation and Volunteering
Download
This publication uses a case study analysis approach to examine volunteer programmes in Cambodia, China and Thailand that have strong South-South components.
It includes recommendations for strengthening the role of South-South volunteerism in achieving the Sustainable Development agenda.
The paper features three case studies that show different aspects of South-South Triangular Cooperation in volunteering: a volunteer programme embedded in a national development cooperation agency (Thailand), a national volunteer scheme supported by South-South funding, triangular and South-South knowledge exchange (Cambodia) and a project enhancing knowledge exchange to increase capacity for international volunteering for volunteer-involving organizations (China).
The case studies in this publication demonstrate that South-South volunteers are effective and bring traits that other developing countries value. These include similar cultures, adaptability to living in the community, ability to build trust and sharing similar languages that enables them to communicate well with the host community
International volunteer projects create solidarity and bonds between people of the global south. A well-constructed volunteer programme based on the principles of respect and mutuality can build strong personal relationships between volunteers, between volunteers and communities and between countries. Solidarity and mutual benefits can be further strengthened by incorporating reciprocal exchanges through which volunteers work in each other's countries and benefit from each other's rich experiences.
Recommendations to strengthen the role of South-South volunteerism in achieving the Sustainable Development agenda include the following: 1) Generate evidence and enhance knowledge exchanges among southern partners in volunteering to transfer and scale up good practices; 2) Strengthen partnerships, networks and platforms; 3) Align South-South cooperation and volunteering to national priorities and give the concept a stronger voice at regional and international levels; 4) Bolster effective volunteering programmes to make achieving the SDGs more attainable in developing countries, especially where resources are scarce; 5) Empower new southern voices to engage in development.