Webinar
21st Century Reset: Human Development, Volunteering and the New Social Contract
Summary
It is time for a global reset. The COVID-19 pandemic has shown us that we need to change the way we live, work and cooperate. As the UN Secretary-General, Antonio Gutierrez has said... 'we need a 21st Century reset, a new social contract with bold and innovative solutions to our shared problems'. 
In the dialogue organized by United Nations Volunteers (UNV) and the Human Development Report Office (HDRO) last 23 March, over 350 representatives from UN agencies, governments, academia, and volunteer movements discussed a new social contract between people and states that promote inclusive human development and protect the planet.
"But is it possible that the new social contracts will recognize the role of volunteering in our societies?"  Mr Toily Kurbanov, Executive Coordinator of UNV argued that while volunteering has become more visible during the pandemic, the discourse has not evolved beyond the same notions of service, assistance, and volunteers as implementers. He thus challenged the participants to use the dialogue to unpack the big concepts, draw a balanced picture and come up with new ideas for a new social contract that will enable people and states to work more effectively together (Watch his remarks here (3:04)).
"We humans have become our worst enemy, but also our primary hope. If we have the power to create a new geological era, then we have the power to choose change", remarked Mr Pedro Conceição, Director of HDRO. As the 2020 Human Development Report notes, people have the ability to make choices to avoid future pandemics and potentially catastrophic paths. "We can pursue solutions embedded in changing social norms, improving incentives and working with – not against – nature" (Watch his remarks here (8:21)).
To investigate the relationship between volunteering and the 21st-century social contract, Ms Emma Morley, Chief of Volunteer Advisory Services at UNV and Mr Chris Millora, lead researcher of State of the World's Volunteerism Report (SWVR), presented the rationale and the analytical framework for UNV's upcoming report. The report will use original research to understand new and emerging volunteering models around deliberative governance mechanisms, co-creation of social protection and services, and social innovation models in Asia, Africa, Arab States, Russia and the Commonwealth of Independent States, and Latin America. (See their joint presentation here (17:03)).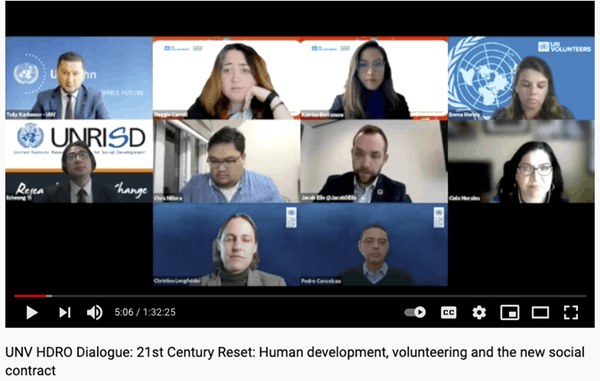 A dialogue between experts and volunteers ensued. Stressing that 'nothing is for us without us', Ms Cielo Morales, Director at the Latin American and Caribbean Institute for Economic and Social Planning responded to the question from Ms Jahleel Burao, co-founder of the Citizen Budget Tracker, on how governments can better involve citizens in policy-making processes. Ms Morales cited that co-creation of policies between citizens and states is gaining ground in Latin America. "For example, in just a decade, 16 Latin American countries have implemented 42 Open Government plans and 1156 commitments - which is a promising trend.", she remarked. (See their exchange here (32:45)).
In countries such as Thailand where active citizenship is still gaining recognition, Ms Weenarin Lulitanonda, co-founder of Clean Air Thailand asked, "how can  we foster citizen engagement and move from intent to action especially in promoting planetary health?" Responding to her question, Ms Christina Lengfelder, Research Fellow at HDRO, explained the importance of social norms and how volunteering can be a collective force for change, empowering people to act upon their values, spread their actions, and change social norms. (See their exchange here (45:38)).
In her intervention Ms Nada Nafez, a UN Volunteer at WHO Egypt asked, "As institutions, we have become very good at partnerships with communities to share information or to raise awareness. But how do we take the next step to collaborate?". Mr Ilcheong Yi, Senior Researcher at  the United Nations Research Institute for Social Development talked about the role of the social and solidarity economy, and how communities can go beyond organizing and campaigning to meaningfully contribute and co-produce services. He cited some examples where this is already happening such as the SEWA milk cooperatives or Lok Swasthya's medicine shops (See their exchange here (57:39).
"How can young people become meaningfully involved in shaping the future that they want to see, going beyond lip service?" asked Ms Marie Christina Kolo, a social activist in Madagascar who won an innovation award for a soap her team developed to help local communities fight the pandemic. Mr Jacob Ellis, Lead Changemaker in Wales Future Generations Commission, acknowledged the necessity and complexities of involving the youth in decision making. "Young people have views on everything", he shared. He explained that his team works with young people by applying the principles of reverse mentoring, ensuring a youth seat at the table, and recognizing intersectionalities and intergenerational differences. (See their exchange here (1:08:22).
Participants raised several questions around the issues of lack of capacities and spaces for meaningful citizen involvement in policymaking and deliberative governance. There were also questions on how to foster social innovation in different contexts as well the role of different actors, for example, the private sector, in the formation of the new social contract. Ms Maggie Carroll, Policy Specialist and SWVR lead at UNV, wrapped up the dialogue by highlighting some of the promising case studies for further research shared by participants through this session, and by noting that there were still questions on how best to research volunteering and the 21st Century social contract across diverse contexts.  She closed the session by inviting everyone to continue the conversations online through the discussion group on UNV's knowledge portal.
Let's continue the conversations.