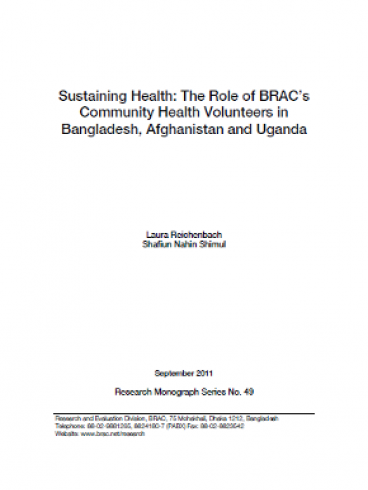 Technical paper
Sustaining Health: The Role of BRAC's Community Health Volunteers in Bangladesh, Afghanistan and Uganda
Download
Fast read
This study examines the motivation of female community health volunteers

(CHVs)

involved in the health programmes of Building Resources Across Communities (BRAC).

Research data was collected through surveys covering

270 female CHVs in Bangladesh, 210 in Afghanistan and 158 in Uganda.
Summary
The study found that the BRAC health programmes depend on the successful recruitment, training and retention of CHVs. The findings also suggest that, with the exception of Afghanistan, the main motivations for becoming a CHV were mainly financial incentives. The results show that CHVs were motivated by the opportunity to sell medicine and health commodities to supplement their income while addressing the preventative and health education aspects of the programme. Non-financial incentives were also of vital importance in motivating CHVs. These included social recognition and specialized training to help women volunteers acquire new skills in health, social marketing and inventory management.
The study provides governments and policymakers with insights and recommendations applicable to community health workers for ensuring the sustainability and replicability of volunteering programmes. For these volunteering programmes to be sustainable, the study suggests it is important to foster and maintain government support, adapt the model to the local context to facilitate replication and ensure the transparent assessment of the performance of volunteers. It is also important to find the right balance between financial sustainability and non-monetary rewards, empowering community health workers through training and understanding what it means to be a volunteer from a local perspective.