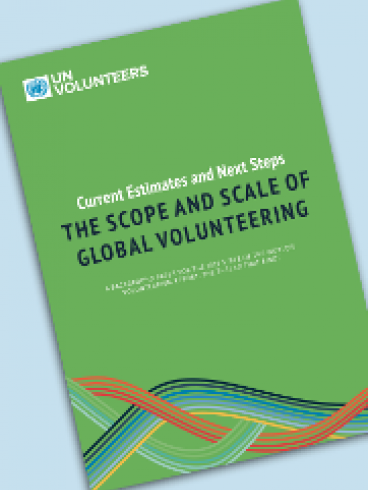 Technical paper
Current Estimates and Next Steps: The scope and scale of global volunteering
Measurement of Volunteer Work
Download
Fast read
This paper provides new estimates of the scale and scope of volunteering globally.

It gives insights into global volunteering patterns and makes recommendations to further enrich and expand the measurement of volunteering.
Summary
The paper presents data on volunteering in countries covering over 60 per cent of the world's population using the following data sources: (a) the Johns Hopkins Comparative Nonprofit Sector Project; (b) the 2011 International Labour Organization (ILO) Manual on the Measurement of Volunteer Work, the ICLS and the 2003 United Nations (UN) Handbook on Nonprofit Institutions in the System of National Accounts; (c) official Time Use Surveys (TUSs); and (d) newer national volunteering survey.
The collected data suggests that direct and organization-based volunteer workforce equates to 109 million full-time equivalent (FTE) workers. Of these, 70 per cent of global volunteer activity occurs through direct person-to-person engagement, while 30 percent takes place formally through organizations or associations. Significant variations exist in the scale of the volunteer workforce across different regions, and in the proportions of direct and organization-based volunteering. The data suggests that majority of global volunteer work (57 per cent) is carried out by women. This number increases  to 59 per cent when looking at direct volunteering.
To further improve measurement efforts of global volunteer work, the paper recommends governments and policy makers to a) Continue cost-effective surveying of volunteering, including time-use surveys; b) Expand surveying using the ILO methodology to more countries to ensure richer and more comparable data; c) Conduct new surveys in those countries for which there is very little data, in particular the most populous countries such as Bangladesh, Egypt, Indonesia, Nigeria, and the Philippines; and d) Encourage research actors and statistical agencies to work closely with volunteer-involving organisations and other development actors to sensitize, synergize and localize the collection of data and ensure that collected data is used effectively by stakeholders to enhance support to volunteers.