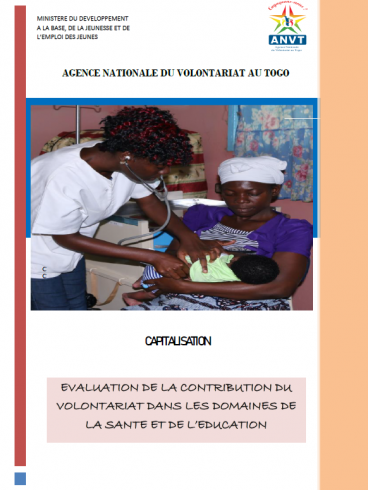 Report
EVALUATION DE CAPITALISATION - LA CONTRIBUTION DU VOLONTARIAT DANS LES DOMAINES DE LA SANTE ET DE L'EDUCATION
Measurement of Volunteer Work
Download
The National Volunteer Agency of Togo (ANVT) has received support from the United Nations Volunteers (UNV) through its Innovation Challenge Fund on modeling the economic and social contributions of volunteers to the Sustainable Development Goals (SDGs) to build a new framework for assessing the contribution of volunteerism to the socio-economic development of Togo. Thus, ANVT relied on the data collection system of volunteers' achievements, set up since 2017, to quantify their contribution to the Education and Health sectors. Based on the results obtained and the lessons learned, the experience was capitalized upon, with a view to improving the intervention approach, and exploring its extension to other sectors and its replicability.
The general objective of the study is to capitalize on ANVT's experience in evaluating the contribution of volunteerism. Specifically, the study aims to :
- Describe and characterize the methodological approach to evaluating the contribution of volunteers to the education and health sectors;
- Produce, in light of this approach, an evaluation guide of the contribution of volunteers to these sectors.

The report is designed as a tool for reporting on a study mission in accordance with the objectives and expected results defined in the terms of reference. In this respect, it is structured in three main parts devoted in order: (i) a reminder of the methodology deployed to answer the main questions of the study, and (ii) a reminder of the context of the emergence of the capitalized experience (iii) the results of the capitalization. The conclusion provides an overall assessment of the mission.

The study was conducted using an inclusive and participatory approach, and was based on the evaluation of the data collection system. At the end of the capitalization process, a report was produced that highlights: (i) the business process of the evaluation approach; (ii) the successes and achievements to be consolidated; (iii) the shortcomings and possible margins for progress; (iv) the lessons learned at different levels for better scaling up.
Through this second study, ANVT wants to be part of the dynamic of capitalizing on the different initiatives and experiences it deploys, in order to: (i) improve its interventions; (ii) produce knowledge on volunteering, shareable and reproducible; and (iii) create favorable conditions for a better recognition and valorization of volunteering.