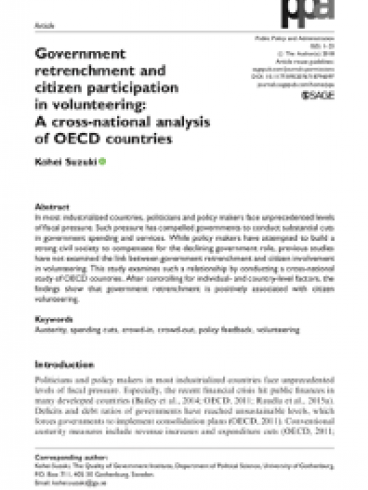 Technical paper
Government retrenchment and citizen participation in volunteering: A cross-national analysis of OECD countries
Enabling Environment for Volunteering
Download
Fast read
This study analyses how government retrenchment is associated with voluntary activities and examines how changes in levels of government spending are associated with volunteering.

Data was collected using two waves of large-scale opinion surveys across OECD countries. Government retrenchment measured by the average annual percentage change of government spending over 10 years.

Participation in voluntary activities is measured by two dependent variables: individual membership in volunteer-involving organizations and individual engagement in unpaid voluntary work.
Summary
The results of the study suggest that government retrenchment is positively associated with citizen volunteering. The study also notes that individuals living in the context of large-scale government expansion are less likely to volunteer for voluntary organizations. The findings also suggest that general cuts to public spending are associated with increased active voluntary work by citizens in specific types of organizations (for example, service-oriented and social service organizations) and more broadly in volunteer-involving organizations in general. The study also found that large-scale expansion of government spending is negatively related to citizen volunteering in a similar way. It suggests that similar results across different areas of volunteering may be due to the comprehensive measurement of spending cuts in terms of general government final consumption expenditure.
The study provides policymakers with new insights on the relationship between different kinds of government spending and types of volunteering. It also recommends further research using different economic and social variables as data becomes available.