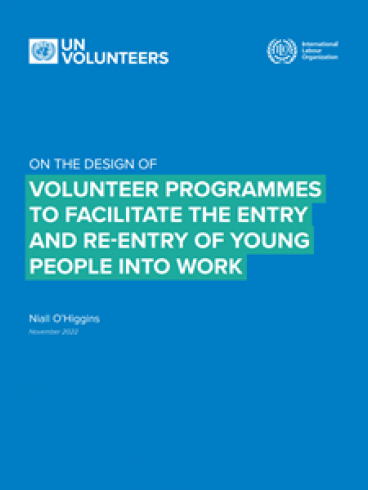 Technical paper
On the design of volunteer programmes to facilitate the entry and re-entry of young people into work
Download
Fast read
This paper, published jointly by the International Labour Organization and the United Nations Volunteers (UNV) programme, focuses on identifying the main features of volunteer programmes and, more generally, the types of volunteer programmes or work that are likely to be effective in promoting the integration and re-integration of young people into decent employment.
Summary
This paper highlights how participating in volunteer work can have measurable impact on a number of characteristics that are directly or indirectly related to young people's successful transition to employment. It can impart hard and soft skills, as well as signal the possession of the same to employers. It may raise self-esteem, especially among the unemployed.
The analysis brings together evidence about the impact of volunteering and other forms of labour market integration on subsequent employability and employment prospects. In doing so, it identifies some key features of volunteering initiatives that are likely to produce better labour market outcomes among young people.
Evidence brought out in this paper suggests that ultimately and to better support the school-to-work transition, volunteering experience should foster the acquisition of skills with lasting value, contribute to the development of competencies, and nurture the cultivation of contacts expected to benefit the participants over the longer term.