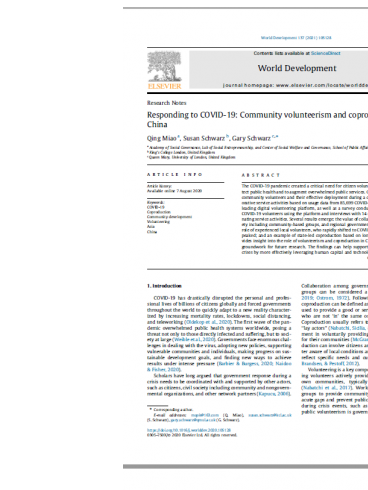 Technical paper
Response to COVID-19: Community Volunteers and Co-Production in China
Volunteerism and the SDGs
Download
Summary
The study underscores the value of people-state partnerships and the role of experienced community volunteers and their effective deployment during a crisis can play. 
It highlights the collaboration between community organizations and community volunteers and public sector agencies and regional governments in China and the role of the partnerships in filling the gaps in public service delivery during the pandemic.
While the study is situated within the context of the pandemic, it offers lessons on how people-state partnerships can be effectively harnessed to meet public needs.
Fast Read
The article explores the role of co-production  - the direct involvement of citizens and government in the voluntary provision of services in the context of a public health crisis.
The study examines the role of community volunteers in the delivery of public health services within the context of the pandemic in China.
Data were gathered from over 80,000 volunteers participating in a digital platform as well as from a survey of 2270 volunteers and interviews with 14 civil society leaders who coordinated services.
As the evidence on co-production remains limited, this study helps to close the research gap on co-production.