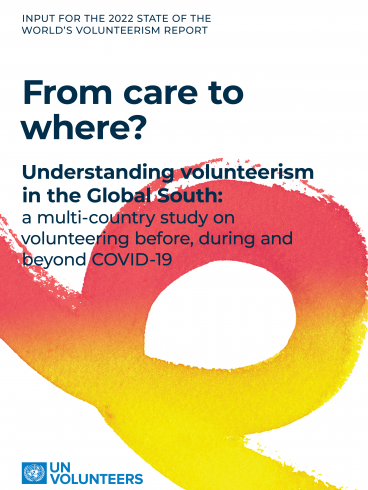 Technical paper
From care to where? Understanding volunteerism in the Global South: a multi-country study on volunteering before, during, and beyond COVID-19
State of the World's Volunteerism
Download
Volunteerism is an essential fabric of all societies and a critical resource for peace and development. While much is known about volunteerism in the Global North, there has been far less research on the shape of volunteering in the Global South.
Meanwhile, as efforts are taken to better understand the impact of the COVID-19 pandemic on individuals and institutions, there is a risk of evidence gaps growing ever wider, even as the world's 1 billion volunteers constitute or contribute to the safety nets and social protection systems available to some of the most vulnerable populations.
To start bridging these evidence gaps, this study presents patterns of volunteer action and experiences in eight Global South countries during the COVID-19 pandemic, along with voluntary participation plans in the year to come. Specifically, the study draws on interviews with over 8,000 people in Bolivia, India, Kenya, Lebanon, Senegal, Thailand, Turkey and Uzbekistan to address three questions:
What did volunteering look like in 2020 and early 2021? 
Did volunteering participation change compared with previous years?

What is understood about people's plans to volunteer in the future? 
Nationally representative telephone surveys were conducted in all eight countries between March and April 2021. The methodology for the study can be found in appendix 1. The full questionnaire can be found in appendix 2.