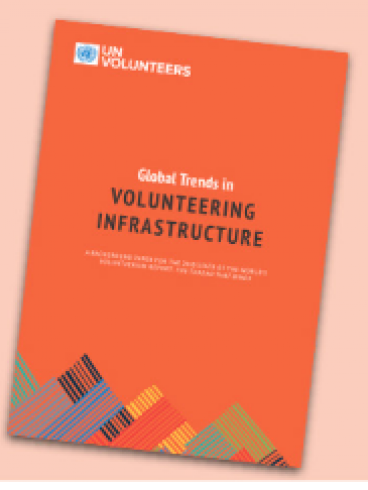 Report
Global Trends in Volunteering Infrastructure
Enabling Environment for Volunteering
Download
Fast read
This paper provides an overview of the state of volunteering infrastructure globally.

Three kinds of data provide the basis for the analysis: a review of current literature; a survey of UNV's programme's regional offices and field units covering 91 countries; and 34 semi-structured expert interviews.
Summary
The main trends identified are the continued expansion and consolidation of volunteering infrastructure worldwide; innovations in technology, modalities and partnerships; and new focus on making volunteering more inclusive. At the same time, there are inherent challenges to volunteering infrastructure that are affected by the different contexts and the available resources. The findings highlight that not all volunteering infrastructure is positive and that some interventions can have negative consequences for volunteerism by being restrictive, repressive, and making volunteering more exclusive.
To ensure that volunteering infrastructure fosters inclusion, the paper suggests  governments and other actors to work together to reduce barriers to cooperation, promote new forms of cooperation, and incorporate technological and cross-sector innovations. It also suggests a need to balance top-down and bottom-up approaches, while at the same time tailoring volunteering infrastructure to national and local contexts.