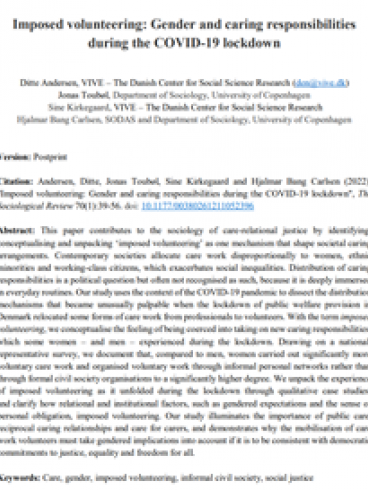 Technical paper
Imposed volunteering: Gender and caring responsibilities during the Covid-19 lockdown
Download
Fast Read
This paper presents findings from a national, representative survey and case studies on voluntary care work in Denmark during the COVID-19 lockdown, when public welfare provision relocated some forms of care work from employed staff to volunteers. The article contributes to the sociology of care-relational justice by identifying, conceptualising and unpacking 'imposed volunteering' as a mechanism that shapes societal caring arrangements.
    Summary
Drawing on a national, representative survey in Denmark during the Covid-19 lockdown, the quantitative analysis documents how women did more voluntary work than men and how the voluntary care work was primarily organised through informal, personal networks rather than through formal organizational sectors of civil society. The qualitative analysis examines cases of giving or receiving care that is experienced as imposed volunteering impelled by a lack of alternatives in the context of the pandemic lockdown of public welfare provision.
The experience of imposed volunteering is unpacked through qualitative case studies, demonstrating how relational and institutional factors such as gendered expectations and the sense of personal obligation, imposed volunteering.
The paper contributes to the question of what role volunteers can and should play in the provision of care in welfare states. It finds that while there may be good reasons to involve volunteers to a greater extent, voluntary care work can be experienced as imposed. Strategies for involvement of volunteers in the provision of care should take gendered implications into account and assess whether voluntary care work promotes or challenges gender and social equality.