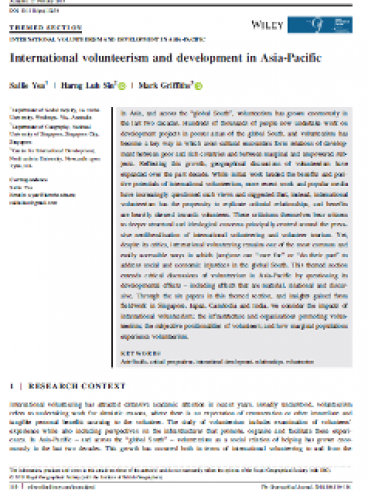 Technical paper
International volunteerism and development in Asia‐Pacific
Download
Fast read
This report summarizes six papers exploring the impacts of international volunteerism on development and poverty reduction in the Asia–Pacific region.

The papers were based on data and insights from fieldwork conducted in Singapore, Japan, Cambodia and India.
Summary
The papers consider the impacts of international volunteering, the infrastructure and organizations promoting volunteerism, the subjective positionalities of volunteers, and how marginal populations experience volunteerism.
It provides governments and policymakers with new insights on the development of volunteerism in the region. It also emphasizes the need to extend the critical discussions of international and cross-cultural volunteerism in the Asia–Pacific region through the lenses of emotional and relational geographies by examining and understanding relationships in the international volunteering space.