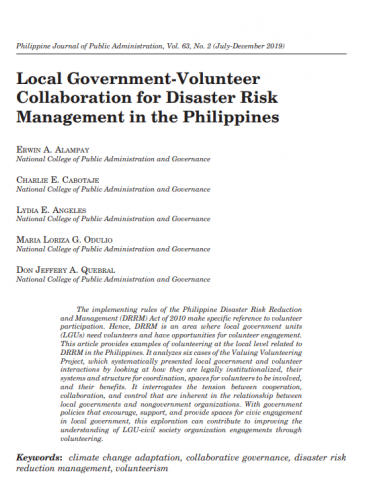 Technical paper
Local Government-Volunteer Collaboration for Disaster Risk Management in the Philippines
Volunteerism
Humanitarian and Volunteering
Download
Fast read
This article documents practices of volunteer collaboration in Disaster Risk Reduction and Management (DRRM) in selected Philippine local government units (LGUs) that have been vulnerable to natural disasters in the past and that are beginning to face climate change-related challenges. In so doing, the article aims to help inform ways for LGUs to harness and institutionalize volunteer participation to mitigate and adapt to the impact of climate change in their communities. 
Summary
The implementing rules of the Philippine (DRRM) Act of 2010 make specific reference to volunteer participation. Hence, DRRM is an area where local government units need volunteers and have opportunities for volunteer engagement.  

This article provides examples of volunteering at the local level related to DRRM in the Philippines. It analyzes six cases of the Valuing Volunteering Project, which systematically presented local government and volunteer interactions by looking at how they are legally institutionalized, their systems and structure for coordination, spaces for volunteers to be involved, and their benefits.  
The cases indicate mixed successes in how local government and volunteer collaboration has been carried out. Four of the cases illustrate how community resiliency can be strengthened through stronger involvement of volunteers in DRRM efforts, while considering how people interact with their environment.  

With government policies that encourage, support, and provide spaces for civic engagement in local government, the analysis can contribute to improving the understanding of LGU-civil society organization engagements through volunteering.