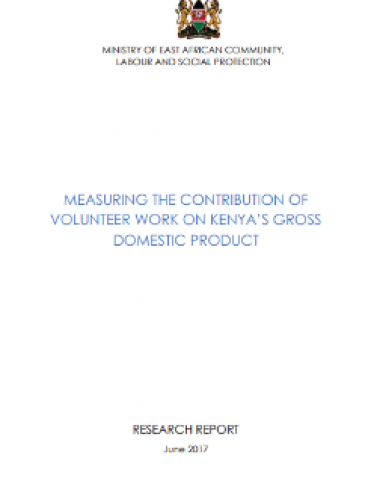 Report
Measuring the Contribution of Volunteer Work on Kenya's Gross Domestic Product
Measurement of Volunteer Work
Download
Fast read
This research documents the different types, dynamics and trends of volunteering in Kenya. It also analyzes the economic value of volunteering to the country's GDP.

Data was gathered at the community, county and national levels on the work of volunteer-involving organizations and informal volunteering in households, neighbourhoods and communities.
Summary
The research found that the contribution of volunteerism to the economy is largely invisible despite figures that estimate that volunteers in Kenya contribute an average of 670 million hours per year (equivalent to 3.66 per cent of GDP). Kenyan volunteers tend to be men who are married, self-employed or unemployed, middle-aged (35–74 years of age) and involved in informal volunteering. The research suggests that the low recognition of informal volunteering, the lack of collaboration between the government and volunteer-involving organizations and the lack of a legal framework and structures on volunteering are some of the factors that undermine the positioning of volunteering as a tool for development in the country.
The research provides governments, companies and volunteer-involving organizations with data to inform the policy options and reforms required to sustain volunteering growth in Kenya. It also suggests the need to include volunteerism data in the database of the Kenyan national statistics office.