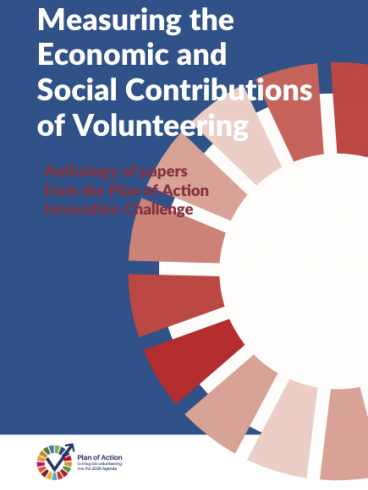 Technical paper
Measuring the Economic and Social Contributions of Volunteering: Anthology of papers from the Plan of Action Innovation Challenge
Measurement of Volunteer Work
Download
Fast read
The anthology features seven papers that highlight different approaches to modelling the economic and social contributions of volunteer work. It is based on the seven shortlisted proposals for the Innovation Challenge Fund on Measuring Volunteering and the 2030 Agenda.
 
Summary
The papers in this anthology show how the diversity of volunteering practices around the world make complex and context-specific contributions to the 2030 Agenda, and demonstrate some innovative ways of measuring these contributions. The anthology is divided into three sections: 
Part I: Exploring alternative sources of data on volunteering and the 2030 Agenda. Given the lack of official national statistics on volunteering, particularly in the global South, two teams of innovators used alternative data sources to analyse patterns of volunteering and what they mean for its contributions. Afrobarometer drew on its unique cross-country survey data from 27 countries in Africa to link civic engagement and volunteerism, while Tesfaye Yimer analysed time use survey data to understand patterns of volunteering in Ethiopia.
Part II: Capturing the intrinsic value of volunteering. Not only is volunteering beneficial in terms of its impacts, it is also valuable in its own right. The El-Pikir Center for Public Opinion Study and Forecasting in Kyrgyzstan provides insights on national volunteering practices via its pioneering nationally representative survey on volunteering. Similarly, Global Change provides a unique framework not only to capture the voice of volunteers in their contribution to SDG16+ to create peaceful, just and inclusive societies, but also to celebrate their contributions. Finally, State of Life uses United Kingdom survey data to examine the relationships between volunteering and well-being and the potential insights the survey data can offer other countries around the world.
Part III: Measuring the support of volunteering for service delivery. The final papers show the instrumental value of volunteering to delivering the 2030 Agenda more directly. The National Volunteer Agency in Togo (ANVT) explores the measurement of volunteering contributions to health and education outcomes. Similarly, Usitawi Consultants Africa builds a model to assess the contributions of community health workers to national health commitments and the health indicators of the SDGs in Kenya.