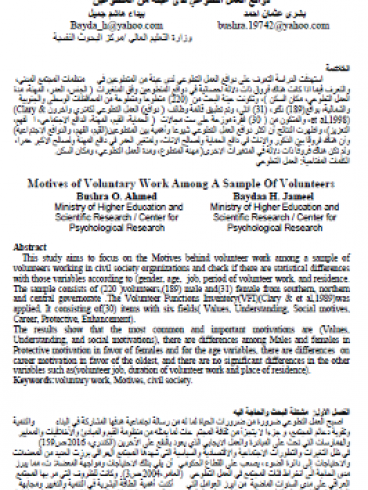 Technical paper
Motives of Voluntary Work Among a Sample of Volunteers
Enabling Environment for Volunteering
Download
Fast read
This study explores the motivations of volunteers working in civil society organizations and examines how such motivations may be impacted by gender, age, occupation, period of volunteer work, and residence area.
Data was collected based on a sample of 220 volunteers, including 189 male and 31 females from southern, northern and central governorates of Iraq.
Summary
The results suggest that the motivations for volunteering are primarily driven by the values and principles of volunteers and by their understanding of the importance of volunteerism to address societal issues, acquire new skills and build networks. There are differences among men and women, most notably in terms of protection (volunteers' ability to develop positive thinking to solve personal issues and stay away from negative feelings), which was higher among females. Regarding age, older participants were motivated to volunteer to secure a new job or maintain a skill set needed for a given job. The study also found that the variables related to the occupation of volunteers, the duration of volunteering activities and place of residence have no significant influence on the motivation to volunteer.
The study helps decision makers and other actors engaging with volunteers to better understand their motivations. It also suggests innovative ways to raise awareness of the importance of volunteering to attract volunteers from different age groups based on their motivations.