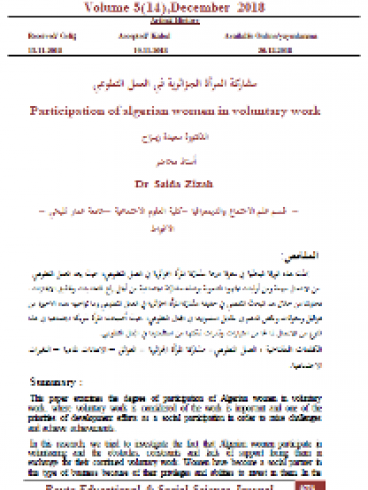 Report
Participation of Algerian Women in Voluntary Work
Download
Fast read
This paper examines the participation of Algerian women in volunteerism, given its importance to tackling development challenges.
It explores the obstacles facing women volunteers that limit their participation, despite their ability to make sound contributions to volunteerism.

The analysis is based on a survey of 60 participants, including volunteers and social workers from the charity association Al Amal in southern Algeria.
Summary
The paper suggests that a key obstacle for women volunteers is their negative perception in Algerian society. Individuals are more interested in for-profit activities and new technologies than volunteerism for charities or humanitarian assistance. This means women are less likely to volunteer. Divorced, widowed and single women were more affected by negative perceptions than those who were married. However, married women were most affected by family constraints, since family members were not interested in their volunteering activities.
In addition to providing a snapshot of the obstacles facing Algerian women volunteers, the paper emphasizes their potential contribution to development efforts. It aims to help policymakers and development practitioners create an enabling environment to encourage volunteerism and reap the rewards of the contributions of both women and men for achieving national and regional development objectives.