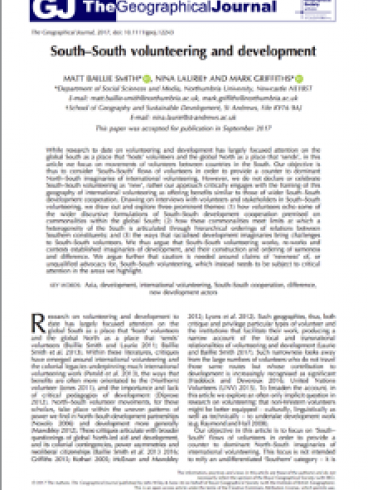 Technical paper
South–South volunteering and development
South-South Cooperation and Volunteering
Download
Fast read
This article analyses the movements of volunteers between countries in the global South, finding that they both reflect and challenge wider discourse on South–South cooperation and continue to be influenced by dominant North–South development models.

The research draws on 11 in-depth interviews with volunteers and staff from volunteer-involving organizations based in the South.
Summary
The paper found that the authenticity and legitimacy of South–South volunteering is built around a narrative of "sameness" and "shared identity", which is recognized by all those involved, even where this may not be the case. The heterogeneity of actors means that despite challenging traditional Northern development hierarchies, such power relationships may simply be recalibrated among Southern countries themselves. Furthermore, Southern volunteers are still working within a racialized development structure that continues to undermine their legitimacy in contrast to Northern (white) development actors and volunteers.
By turning the focus away from North–South models, this paper highlights a number of complexities and tensions in the ways South–South volunteering is currently constructed as an alternative to the disempowering development paradigms of the past.
The paper provides new insights and evidence for policymakers and researchers on South–South flows of volunteers to counter dominant North–South imaginaries of international volunteering. The paper recommends further research on questioning and tracking the ways hierarchies within the South, as well as between South and North, affect volunteering effectiveness on the ground.