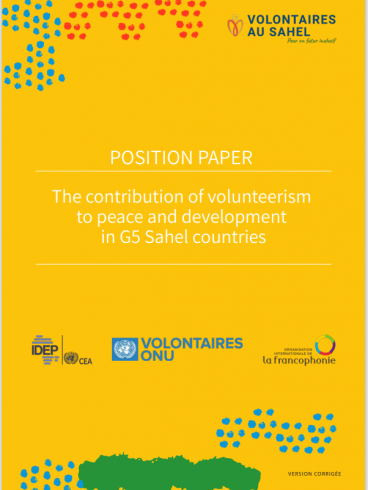 Report
The Contribution of Volunteerism to Peace and Development in the G5 Sahel Countries
Peacebuilding and Volunteering
Download
Fast read
The research explores the contribution of volunteerism to peace and development in five countries in the Sahel: Mauritania, Mali, Burkina Faso, Niger and Chad.

Data was collected through a survey of 58,148 formal and informal volunteers, including 7,666 within the four functioning national volunteering agencies in Burkina Faso, Mali, Mauritania and Niger.
Summary
The report found that Sahel volunteers contribute to fighting violent extremism and radicalization, supporting vigilance and self-defence committees and providing legal assistance. Volunteers also participate in conflict prevention, social cohesion, mediation and facilitating dialogue. It found that there are less women volunteers than men. Similarly, national volunteering agencies target people under 35 years of age, making this age group the main source of volunteers in the G5 Sahel region. The report also outlines the challenges facing volunteerism, such as the lack of financial resources and data, poor marketing, weak social security and a lack of training for volunteers. Another key aspect is high unemployment levels among volunteers, which reflects the need for post-volunteering strategies.
The report provides policymakers with new insights and recommendations on mainstreaming volunteerism into youth strategies and other sectoral policies, projects and initiatives. It suggests giving more recognition to volunteering commitments, increasing financing and building the capacity of volunteers in coordination with training institutes.