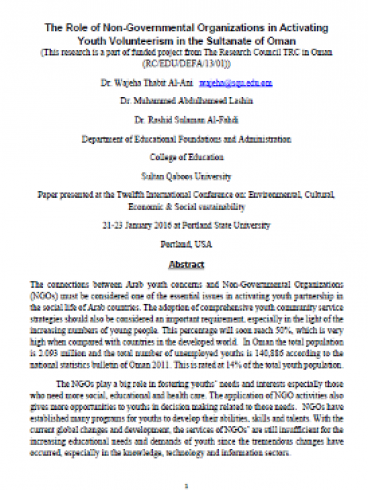 Technical paper
The Role of Non-Governmental Organizations in Activating Youth Volunteerism
Download
Fast read
This paper examines the role played by NGOs in encouraging participation and volunteering among young people in Oman. Research data was gathered from 90 respondents representing NGOs across all the provinces of Oman.
Summary
The results suggest that giving young people the opportunity to volunteer allows NGOs to unlock their potential, further developing their talents, capacities and skills like teamwork, decision-making and leadership. The services provided by NGOs are perceived as vital to galvanizing youth volunteerism. These include volunteering training, recreational activities, certificates and awards and specialized IT training. The findings also reveal a number of challenges facing NGOs in Oman, such as a lack of resources, enabling laws, policies, regulations and systems.
The paper helps decision makers and other actors better understand the role of NGOs in promoting a culture of volunteerism among young people. It recommends the need to enhance cooperation among key players by establishing a national independent association for volunteerism. It also highlights the need for laws and policies on volunteerism, as well as supporting NGOs to develop and sustain their volunteer activities to foster and support volunteering among young people.