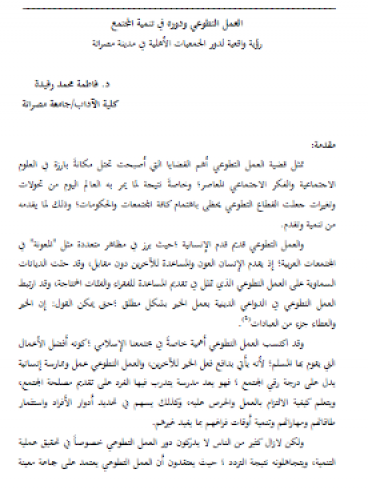 Technical paper
The Role of Volunteering in Societal Development: A Realistic Vision of the Role of Civil Society Organizations in Misrata city
Enabling Environment for Volunteering
Download
Fast read
This research explores the role of volunteering in the development of society by studying the different types of volunteering in volunteer-involving organizations based in the city of Misrata, Libya. Data was gathered from a sample of 40 young volunteers.

 
Summary
The findings suggest that most volunteer-involving organizations provide social and health services to a large number of beneficiaries. These services include providing care for people in need, supporting the unemployed, ensuring educational support, raising cultural awareness and empowering young people. However, volunteer-involving organizations also face obstacles, such as a lack of resources, the absence of platforms for sharing and documenting volunteering knowledge and a lack of formal training for volunteers and workers of civil society organizations to boost their capabilities and their ability to fulfil their volunteering responsibilities.
The study provides decision makers and other actors working with volunteer-involving organizations with new insights on the support these organizations need to overcome the obstacles they face and deliver successful volunteer interventions. Given their proximity to the grass-roots level, the paper also recommends that volunteer-involving organizations should be approached as the ultimate partner for establishing development policies.