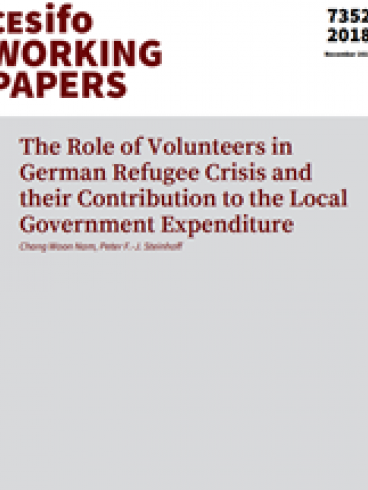 Technical paper
The Role of Volunteers in German Refugee Crisis and Their Contribution to the Local Government Expenditure
Measurement of Volunteer Work
Humanitarian and Volunteering
Download
Fast Read
This study explores the engagement and characteristics of volunteers during the 2015/16 refugee crisis in Germany, when more than 1 million refugees were received, and attempts to measure the economic value of the support provided by volunteers during that time.
    Summary
Through a survey that was carried out in the district of Erding (near Munich, Germany), the study found that the major characteristics of German voluntary refugee-helpers can largely be generalised as follows: (1) the dominance of female volunteers; (2) relatively high education standard; (3) favourable financial stability and living conditions; (4) a strong involvement of (relatively old) employed people and retirees; and (5) 20 to 25 hours of volunteer work per month.
The study also highlights the monetary significance of volunteers' contribution to overcoming the refugee crisis. In an attempt to measure the economic value (the opportunity cost) of volunteering through converting the value of volunteering time and work into monetary terms, different assumptions were applied that related to the types of comparable market wages (e.g. use of German minimum wage for the opportunity-cost calculation of volunteers' working hour; substitution of those voluntary works by the lower payment local group of local civil servants, additionally considering indirect labour cost, etc.).
Under the assumption that 45 to 55 full-time local civil servant jobs would have had to be financed in the district of Erding to substitute the contribution of volunteers during the peak period of the refugee crisis in 2015/16, annual personnel and material costs would have amounted to 1.9 million Euros. The findings thus revealed a relatively huge scope of savings in local expenditure, compared to an assumed situation if such voluntary activities were fully substituted by those of full-time civil servants.