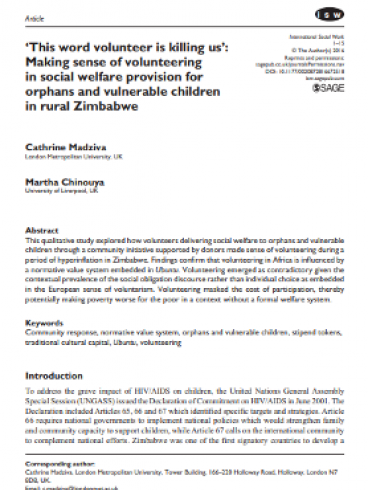 Report
'This word volunteer is killing us': Making sense of volunteering in social welfare provision for orphans and vulnerable children in rural Zimbabwe
Volunteerism and the SDGs
Download
Fast read
This article examines the perceptions and experiences of volunteers in rural Zimbabwe who provide social welfare services to orphans and vulnerable children.

The study was part of a larger research project to understand community responses to orphans and vulnerable children by international NGOs.

It was conducted in the Buhera district of Zimbabwe during a period of hyperinflation between 2006 and 2011. Data was gathered using purposeful sampling from 22 respondents including volunteers and staff from an international NGO and a community-based organization.
Summary
The article notes that volunteering in Africa is influenced by a normative value system based on ubuntu culture, which is rooted in the principles of solidarity and cooperation, exemplified by "doing good to others" and contributing to the welfare of society without expecting anything return. It also highlights the contradiction of volunteering as a social obligation instead of an individual choice. Other key findings includes the costly nature of volunteering in the case of care providers who are labelled as volunteers. Although the participation of community members in welfare services for orphans and vulnerable children and other development interventions can strengthen ownership, it masks the cost of their participation in terms of the valuable time that would otherwise be used for supporting their families. Such a situation in which some of the poorest people are supporting the most vulnerable in the absence of a formal welfare system can even exacerbate poverty.
The study provides policymakers and donors with insights on the positive and negative effects of volunteering for social welfare on the communities and the volunteers themselves. It also suggests the need to further explore new ways of engaging with volunteers, striking a balance between providing support to volunteers and preserving self-reliance in communities.