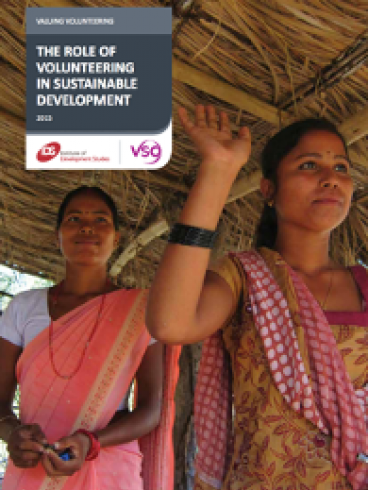 Report
Valuing Volunteering: the role of volunteering in sustainable development
Volunteerism
South-South Cooperation and Volunteering
Download
Fast read
This report explores how and why volunteering contributes to poverty reduction and sustainable positive change, as well as the factors that prevent it from doing so. It looks at both the intended and unintended impacts of a wide range of volunteering interventions: from self-help and community volunteering through to formal national and international volunteering programmes supported by different organizations and institutions.

The report is based on the findings of the global action research project "Valuing Volunteering", conducted between 2012 and 2014 in four countries: Kenya, Mozambique, Nepal and the Philippines.
Summary
The report found that national and community volunteers can play a valuable role in helping extend the reach of public services by adding numbers and experience to the existing public service workforce, helping ensure the relevance of those services to their target communities. It notes that volunteers can best do this when they receive the right training and support. The report also emphasizes that volunteers working in some of the poorest and most remote areas often come from poor and marginalized communities. This means it is important to consider duty of care issues, such as ensuring volunteers are provided with the right resources and support to do their work and are not further disadvantaged by engaging in volunteering.
The report provides recommendations for governments and policymakers on how to better engage with different types of volunteers whose work is centred on relationship building. It also highlights the need to embed volunteering into development programmes as a powerful mechanism for reaching out to some of the poorest and most marginalized groups.