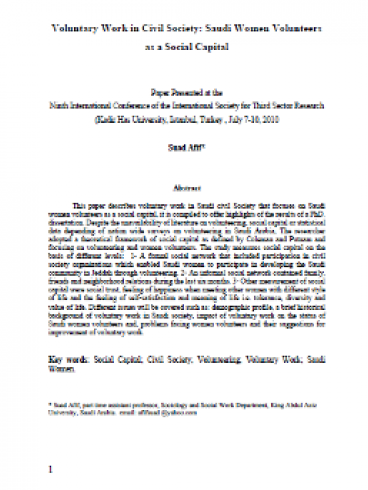 Technical paper
Voluntary Work in Civil Society: Saudi Women Volunteers as a Social Capital
Download
Fast read
This paper analyses women volunteers in civil society in Saudi Arabia in terms of social capital. It looks at voluntary engagement through formal and informal social networks and other measurements related to social trust and happiness. 

It uses the results of a survey of 377 volunteers from 98 civil society organizations in the city of Jeddah.
Summary
The survey data reveals patterns that reflect the underlying dynamics of volunteerism. Participants tend to volunteer with more than one organization at a time and for more than one year. They also invest over 10 hours in volunteering every month. Another key finding of the paper is that volunteers mainly contribute to organizations providing social and health services, youth and religious activities and supporting children with special needs and cancer. Volunteers performed different tasks, from planning to collecting donations, fundraising and social awareness events. Most volunteers generally trusted others and were satisfied and happy meeting other women with different lifestyles. Respondents cited transport as one of the biggest obstacles to volunteering, since public transportation is not available for women and they cannot drive cars. Other obstacles to volunteering opportunities include childcare duties and family discouragement.
The paper provides policymakers with concrete recommendations on how to use volunteerism in Saudi Arabia. However, these can also be extrapolated to the Arab region as a whole. It advocates investing in social capital to promote civic engagement and participation by enabling both formal and informal social volunteer networks.