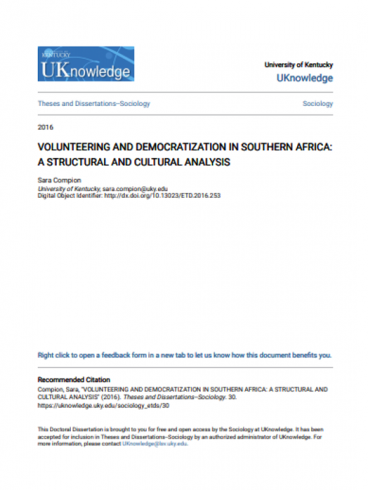 Technical paper
Volunteering and Democratization in Southern Africa: A Structural and Cultural Analysis
Download
Fast read
This dissertation examines the practices and the underlying social and cultural concepts of volunteerism in Southern Africa.

Data was collected using Afrobarometer surveys and ethnographic fieldwork conducted over a 12-month period in South Africa and Zambia.
Summary
The findings highlight two key dimensions of voluntary group involvement in sub-Saharan Africa. Firstly, active voluntary group involvement is tied to civic culture and is a reflection of deeply-rooted community-orientation at a personal level. In Africa, citizens actively engaged in the voluntary sector tend to be more democratic and have a more civic culture. This translates into them being more likely to vote and participate in community activism, favouring democracy and trusting others. Similarly, people with a well-developed civic culture are more likely to join voluntary groups. All this suggests a positive connection between active volunteering and civic culture in Africa. In addition, while the exchange nature of volunteerism plays a role in maintaining social cohesion and increasing social capital, it also supports the establishment of social hierarchies and paternalistic inequalities.
The dissertation provides policymakers with evidence on the patterns and practices of volunteerism in contemporary Southern Africa.