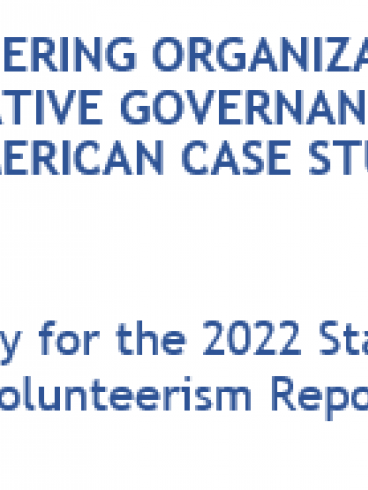 Technical paper
Volunteering Organizations and Deliberative Governance: Latin America Case Studies
State of the World's Volunteerism
Download
Fast read
The case studies explore emerging models of volunteer-state relationships in Latin America and the Caribbean, and how the models can lead to more sustainable and inclusive societies.
The cross-analysis of the case studies showcase volunteer-state partnerships within the context of the region's social, economic and political dynamics.
Summary
Futuro Latinoamericano Foundation's case study explores a volunteer partnership with Ecuador's state authorities on natural resources and sustainable development. The in-depth study provides insights into the collaborative dialogues undertaken under the deliberative governance model.
The Volunteer Center of Trinidad and Tobago (VCTT)'s case study showcases the deliberative governance model based on an online matching platform's that links youth volunteers with state authorities on civic engagement.
Two social innovation models - Colombia's Integrated Care Model for Rural Areas (ICMRA) and Uruguay's Laboratory of Social Innovation in Digital Government (LSID) highlight innovative approaches aimed at addressing issues – health care in rural Colombia and civic engagement in Ecuador.