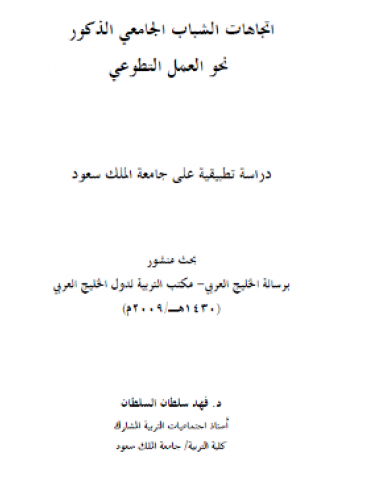 Technical paper
Volunteerism Trends Among University Students: An Applied Study at the King Saud University
Download
Fast read
This study examines the attitude of university students towards volunteerism in Saudi Arabia and identifies obstacles to their participation in volunteering activities. The survey covers a random sample of 373 students from the King Saud University in Riyadh.
Summary
The study found low participation in volunteering activities among university students. In terms of types of volunteering, students prefer to volunteer in delivering health services, humanitarian relief, care work and environmental advocacy. The areas least attractive to volunteers include civil defence, childcare and sports. The study found that participants prioritize benefits such as gaining new skills, building expertise, increasing their self-confidence, building their social networks and providing support to society. Finally, the research found that students' attitudes towards volunteering are not influenced by the obstacles to participation or the type of university curriculum.
The study provides decision makers with information on volunteering trends among students and recommendations for enhancing the participation of young people through volunteering. It highlights the need to encourage volunteerism among university students by raising awareness of its importance during activities held by imams in mosques and sharing information about volunteering programmes implemented by public institutions and civil society organizations, especially in areas where participation is low.