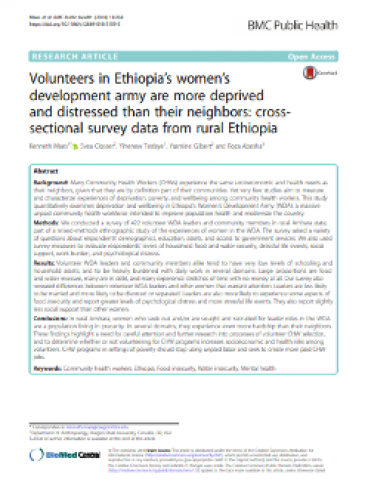 Technical paper
Volunteers in Ethiopia's Women's Development Army Are More Deprived and Distressed than Their Neighbours: Cross-Sectional Survey Data from Rural Ethiopia
Gender and Volunteering
Health and Volunteering
Download
Fast read
This research focuses on the socioeconomic vulnerabilities of community health workers in Ethiopia by measuring and categorizing their experiences in terms of deprivation, poverty and well-being.

A quantitative study examined deprivation and well-being within the Ethiopian Women's Development Army (WDA), a community of unpaid health workers working to improve the health of the population throughout the country. Data was gathered through a survey of 422 women, including WDA leaders and members of the community in the state of Amhara.
Summary
The research found that women in leadership roles in the WDA are living in precarity, meaning they may experience greater hardship than their neighbours. The findings also show that both WDA leaders and community members have very low levels of school completion and asset ownership, lack secure access to water and food, and report heavy daily workloads. Many reported they were in debt and had no money for certain periods. In contrast to other women, WDA leaders were less likely to be married and mostly divorced or separated. WDA leaders also tended to experience food insecurity, suffer higher levels of psychological distress and receive less social support compared to other women.
This research provides useful insights for policymakers in Ethiopia, donors and Ethiopian women community health workers to discuss the policies and issues related to labour remuneration and funding for primary health care. It also suggests that the selection process for community health workers should be carefully considered, including additional research to gain a better understanding of how community health volunteering programmes affect socioeconomic vulnerabilities and health risks among volunteers.