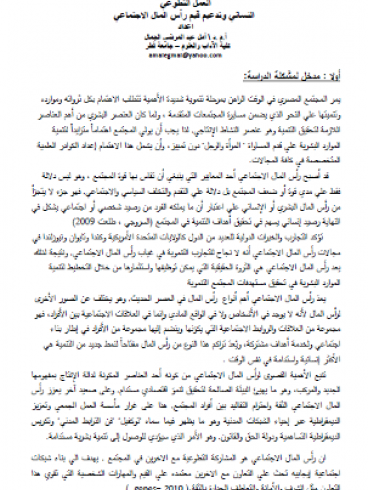 Technical paper
Women's Volunteering in Egypt and the Reinforcement of the Values of Social Capital
Download
Fast read
This paper examines the level of participation of women in government and non-government institutions in Egypt and explores the link between women's volunteering and the value of social capital.

Data was collected based on a random sample of 126 women volunteers working in government and non-government organizations, including civil society organizations, youth centres, political parties, trade unions and the parliament.
Summary
The results suggest a significant difference in the level of women's participation and volunteering activities in both non-government and government institutions. Women's volunteering is generally higher in government institutions, with their activities more focused on delivering basic services for local populations, compared to advocacy and mobilizing resources in non-government organizations. The results also suggest a positive correlation between women's volunteering activities and the strengthening of social capital, reflected in values of self-confidence, tolerance and trust between members of society and institutions.
The study provides decision makers with evidence and recommendations to build and support a culture of volunteering, especially among women. It also suggests that providing an adequate space for women's participation in both government and non-government organizations will enable effective participation of women in society to catalyse values of tolerance and trust for a more stable and united society.