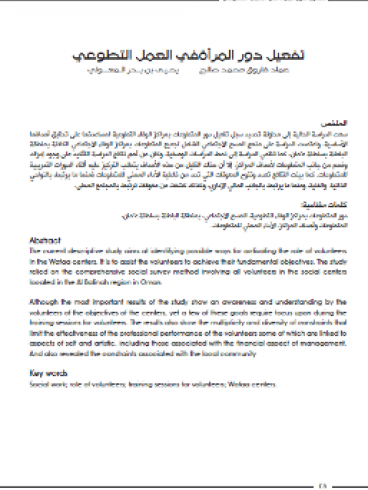 Report
Activating the Role of Women in Volunteering
Download
Fast read
The report looks at the motivations of volunteering among women.

The authors used a social survey of 81 participants in the Al Batinah region of Oman to analyse women's participation and empowerment through volunteering.

The participants were 67 women volunteers and 14 social workers at the Al Wafa rehabilitation centres, which provide children and young people with specific needs with special care.
Summary
The study suggests that social and religious considerations were the main motives for volunteering. Insufficient training among the volunteers and a lack of special skills for the tasks assigned reduced effectiveness. There are also a number of findings related to coordination, administration and management constraints which impede the work of volunteers. The study found a lack of specific rehabilitation programmes for different age groups of children with specific needs. It also found there were not enough specialized social workers at rehabilitation centres. Finally, there was not enough funding to implement the activities and the many administrative tasks performed at centres.
The study also identified social constraints, including limited family support to the rehabilitation centres, a lack of awareness of the activities of the centres and the existence of severe cases of children with special needs. Recommendations from the study highlighted the importance of training volunteers so that they can acquire the skills they need to effectively perform their tasks, as well as calling upon the media to raise awareness among citizens about the role of volunteerism and conducting academic research to improve the work at the rehabilitation centres.
The study contributes to knowledge of the role of women in volunteering. It also aims to inform policymakers and social workers in the design and implementation of adequate strategies and interventions to allow women's effective participation in volunteerism.