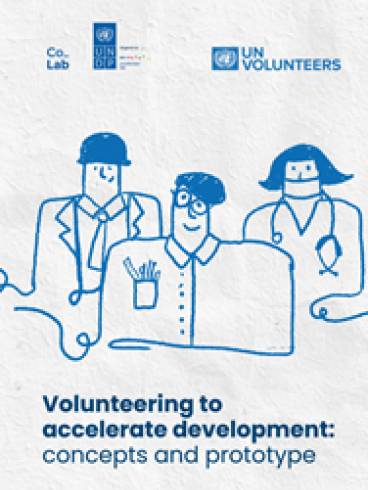 Volunteering to accelerate development: concepts and prototype
Volunteerism and the SDGs
Download
Fast Read
The United Nations Volunteers (UNV) programme and the UN Development Programme (UNDP) Argentina Accelerator Lab (Co_Lab) worked together to develop a prototype that aims to contribute to the promotion of volunteerism, making use of the most successful models in the context of Latin America and the Caribbean, and facilitating good practices and new pathways. The collaboration resulted in a report that provides evidence-based suggestions as to how to implement successful volunteerism strategies and how to leverage networks and technology in the process.
   Summary
In this report, volunteering models are used to prototype a mapping of local and regional solutions and a decentralized acceleration of social entrepreneurship aligned with socioeconomic recovery and financial inclusion, in order to promote the 2030 Agenda and learn from the process.
The potential of volunteerism to address inequality as well as to be integrated into strategies for local development is explored, taking into consideration the distinct characteristics of the Latin America and Caribbean region.
The report is intended to guide policymakers, providing basic concepts and recommendations that will contribute to the design, implementation, and evaluation of volunteer programmes to drive the 2030 Agenda and accelerate SDG achievement. The volunteering models described in this report can be incorporated in the form of short-term policies, both to understand local needs, behaviors and preferences as well as to identify the solutions implemented in the respective areas. In this way, volunteerism – whether directly or indirectly – contributes to the design and development of favorable related public policies.
At the same time, the report argues that these volunteer activities also allow for faster implementation of the solutions developed in the communities. The expedited generation of digital solutions, for example, is demonstrated in the report, made possible by volunteer support networks.
The report also highlights the importance of a strategy for effective multi-stakeholder collaboration and for the early identification of common priorities amongst those stakeholders. Through capacity building, technical assistance and knowledge sharing, the proposed methodology and models could be recreated in different regions and countries as well as within different levels of government.