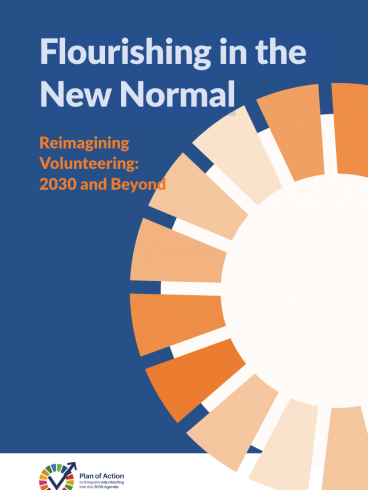 Think piece
Flourishing in the New Normal
Download
Fast read
The think piece challenges long-held assumptions about what is needed to achieve social progress, sustainability, equity and justice.
It also raises questions on how governments and volunteering bodies can respond to the 'new normal' and their ability to create a broader space for citizen engagement.
Read an excerpt from the paper: 
Where can we find hope? This is a question that demands a nuanced answer. Despite the uncertainty we are facing collectively, there are signs of a way forward. This can be seen in the rapid change in civic engagement, social movements and activism.
People from all walks of life (particularly young people) and civil society actors in many countries are channelling their anxieties into activism and social action: 6 million students from 150 countries participated in the youth-organized "Fridays for Future" climate strikes.
COVID-19 has further inspired an unprecedented surge of voluntary efforts. Across different countries, people are coming together in new voluntary associations and mutual aid societies. Where public good institutions are failing to respond to vulnerable groups that are being left out of policy design, people are self-organizing and self-mobilizing to fill the gaps.
In Tunisia, more than 10,000 people have joined a Facebook group bringing together volunteers to help fight the virus. Mass online collaboration has flourished, from global hackathons to the use of collective intelligence. This indicates that how and why people engage in civic participation are changing dramatically.
People are moving away from institutional loyalty in favour of the causes and issues closest to their hearts. The current surge in civic organization highlights the vital role of volunteering alongside civic action to strengthen social cohesion and sustain vibrant, healthy communities and democracy more widely.
New forms of volunteering and civic engagement have been evolving over the last few years, but these seismic tipping points are accelerating it.
Can civic engagement and volunteerism provide a new model for belonging, identity and connection in the future? Are they more than the sum of their parts and, if taken together, could they fundamentally challenge power structures and bring about political and economic change? How can we reimagine structures and enabling environments to help build coalitions across these networks to foster connectedness and the inclusion of those who are most affected?
Harnessing a new sense of solidarity could allow us all to rise to the enormous challenges ahead and transform our era of historic inequality into one of equity and justice. It might be the change needed to reshape volunteerism and civic engagement to go beyond just working with communities to enhance resilience, but rather as a platform to help us all flourish.