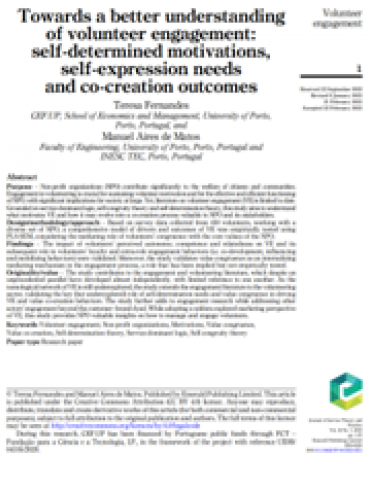 Technical paper
Towards a better understanding of volunteer engagement: self-determined motivations, self-expression needs and co-creation outcomes
Download
Fast read
The study contributes to two research streams – the literature on engagement and service management, as well as the literature on volunteering and non-profit services.
Summary
Non-profit organizations (NPO) contribute significantly to the welfare of citizens and communities. Engagement in volunteering is crucial for sustaining volunteer motivation and for the effective and efficient functioning of NPO, with significant implications for society at large. Yet, literature on volunteer engagement is limited to date. Grounded on service-dominant logic, self-congruity theory and self-determination theory, this study aims to understand what motivates volunteer engagement and how it may evolve into a co-creation process valuable to NPO and its stakeholders.
Design/methodology/approach – Based on survey data collected from 450 volunteers, working with a diverse set of NPO, a comprehensive model of drivers and outcomes of volunteer engagement was empirically tested using PLS-SEM, considering the mediating role of volunteers' congruence with the core values of the NPO.
The impact of volunteers' perceived autonomy, competence and relatedness on volunteer engagement and its subsequent role in volunteers' loyalty and extra-role engagement behaviors (i.e. co-development, influencing and mobilizing behaviors) were validated.
Moreover, the study validates value congruence as an internalizing mediating mechanism in the engagement process, a role that has been implied but not empirically tested.