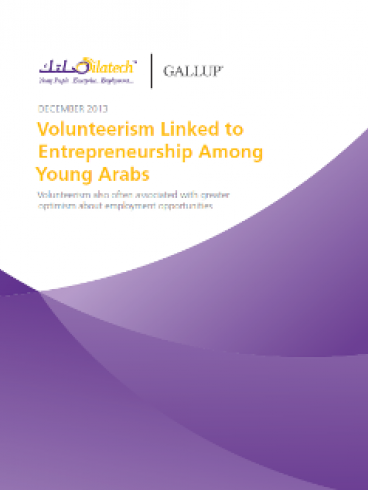 Report
Volunteerism Linked to Entrepreneurship Among Young Arabs
Download
Fast read
This study highlights the links between youth volunteerism and entrepreneurship, emphasizing the potential of volunteerism to support job creation in the Arab world.
It also addresses the current state of volunteerism in the region, including where young people of 15–29 years of age are most likely to volunteer for organizations and who young volunteers are.
The answers come from a face-to-face survey in 19 countries and the Somaliland region of Somalia in 2011. The sample sizes ranged from 239 respondents in Qatar to 2,407 in Egypt.
Summary
The key findings of the report are that young people in the Arab world are among the least likely to have volunteered for an organization in the past month. Young men and women volunteers are more likely to know someone they would trust as a partner for starting a business and to have access to the training and money needed (both factors are crucial to entrepreneurship). The findings suggest these relationships are significant in countries with different income levels. However, awareness of social organizations, non-governmental organizations and charities offering opportunities to serve the community is highest among young people in high-income countries. Being aware of these opportunities does not always translate into more volunteerism.
The report provides insights for policymakers on how to best engage with volunteerism. It suggests volunteerism as a means to solve social or community challenges. It also has the potential to help young people prepare for business and employment.