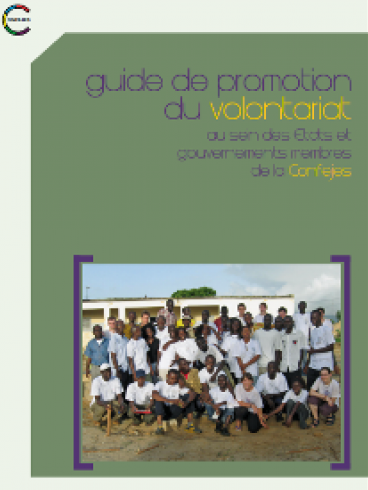 Guidance material
Volunteering guidelines for the member states of the Conference of Ministers of Youth and Sports of French-speaking Countries (CONFEJES)
Download
Fast read
This guide provides a tool for promoting youth volunteering among the Member States of the Conference of Ministers of Youth and Sports of French-Speaking Countries (CONFEJES).
Summary
It shows the potential for volunteerism in Africa. The guide highlights the different types of voluntary work undertaken by youth volunteers and analyses their potential contribution in areas such as youth empowerment and the promotion of culture, education and sport. The guide also provides a framework for setting up volunteering programmes using good practices from the Burkina Faso national volunteering programme, support provided in Mali to establish a national centre for the promotion of volunteerism, the volunteering programme in Niger, national civic service in Senegal and the French international solidarity volunteering scheme.
The guide is designed to help CONFEJES Member States establish volunteering structures to promote volunteering, taking into account the different local contexts. Its recommendations include strengthening legal frameworks that promote volunteerism, establishing volunteerism institutions, providing volunteering related training, ensuring volunteerism forms part of school curricula, coordinating national volunteering networks, diversifying funding sources and assessing the impact of volunteerism on development.