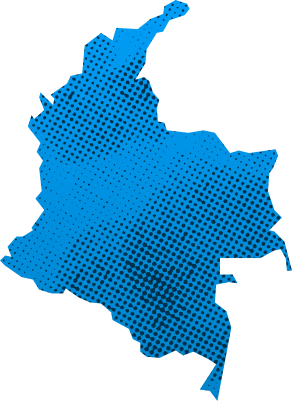 Human Development Index Ranking (UNDP, 2019)
79
Population ( UNFPA, 2019)
49.8 million
Total number of volunteers (ILO, 2019)
869
Direct volunteering (ILO, 2019)
No data
Organization-based (ILO, 2019)
No data
Volunteer statistics (ILO)*
Source: ILOSTATS. The data is collected by ILO from national statistical offices. As national statistics on volunteer work are produced using a variety of approaches and tools, direct and cross-country comparisons are not recommended. For more information, visit https://ilostat.ilo.org/topics/volunteer-work/
Total volunteering by type
Total volunteering by age group
Total volunteering by gender
Direct volunteering by gender
Organization-based volunteering by gender
Measurement work
Data source
2007

2008

2009

2010

2011

2012

2013

2014

2015

2016

2017

2018

2019

2020

2021
Laws, Policies, Schemes on Volunteering
Does the country have a piece of legislation on volunteering?
Yes
Ley No. 720 por medio de la cual se reconoce, promueve y regula la acción voluntaria de los ciudadanos colombianos / Law No. 720 to recognize, promote and regulate voluntary action in Colombia
Does the country have a national policy, scheme, plan or strategy specific to volunteering?
No data
Does the country have a sectoral and cross-sectoral policy, scheme, plan or strategy that mentions volunteering?
No
VNR Reporting
Los Ods Como Instrumento Para Consolidar La Paz
View source
No mention
Accelerar la implementación para una recuperación sostenible
View source
Reporting positive contribution of volunteering to the SDGs
Paragraph 1, page 137
El rol del voluntariado como aliado de la Agenda 2030 y los ODS Es igualmente importante resaltar el rol de voluntariado, toda vez que muchas organizaciones de la sociedad civil trabajan con personas que apoyan las actividades sin remuneración. El voluntariado en Colombia es una fuerza poderosa que no deja a nadie atrás y que agrupa a alrededor de 800.000 personas de acuerdo con el Sistema Nacional de Voluntariado de Colombia. En ese sentido, el voluntariado es un enorme recurso para la resolución de problemas sociales, económicos y medioambientales. Generalmente, los aspectos más visibles del voluntariado giran en torno a la prestación de servicios en las comunidades. Las personas se comprometen con el trabajo voluntario para ayudar a eliminar la pobreza, mejorar la salud y la educación básica, abordar los problemas medioambientales y el cambio climático, reducir el riesgo de catástrofes y combatir la exclusión social y los conflictos violentos. Además, el voluntariado se asocia con la cohesión social, la solidaridad, el empoderamiento, la responsabilidad, la participación, la colaboración y la inclusión.
Paragraph 2, page 144
En un escenario pos-COVID-19, la Agenda 2030 debe servir de guía para la reactivación a nivel global, haciendo énfasis en aquellos ODS con más afectación, teniendo siempre presente que cualquier estrategia de recuperación debe integrar las dimensiones social, económica y ambiental. Además, dada la magnitud del desafío, el trabajo en alianza y la búsqueda de sinergias entre Gobiernos (nacional y subnacionales), sector privado, sociedad civil, voluntarios, academia y demás actores no gubernamentales cobra aún más relevancia