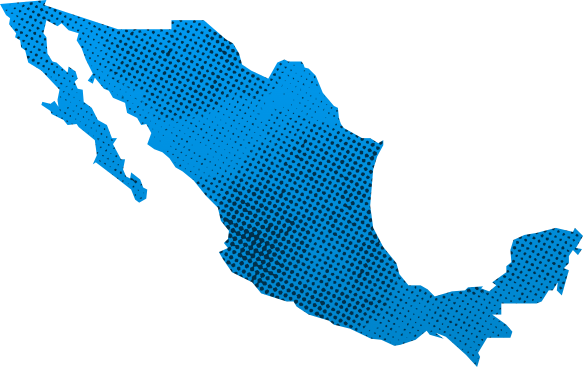 Human Development Index Ranking (UNDP, 2022)
88
Population (UNFPA, 2022)
131.6 milion
Total number of volunteers (ILO, 2018)
1,128
Direct volunteering (ILO, 2018)
No data
Organization-based (ILO, 2018)
No data
Volunteer statistics (ILO)*
Source: ILOSTATS. The data is collected by ILO from national statistical offices. As national statistics on volunteer work are produced using a variety of approaches and tools, direct and cross-country comparisons are not recommended. For more information, visit https://ilostat.ilo.org/topics/volunteer-work/
2018
Total volunteering by type
Total volunteering by age group
Total volunteering by gender
Direct volunteering by gender
Organization-based volunteering by gender
Measurement work
Data source
2007

2008

2009

2010

2011

2012

2013

2014

2015

2016

2017

2018

2019

2020

2021

2022

2023
Laws, Policies, Schemes on Volunteering
Does the country have a piece of legislation on volunteering?
Yes
Ley del Voluntariado del Estado de Querétaro / State Law on Volunteering in Querétaro
Does the country have a national policy, scheme, plan or strategy specific to volunteering?
Yes
| Name of specific policy, strategy or plan on volunteering at the national level. | Year created | Source link | What are the relevant SDG areas/crosscutting themes of the policy, plan scheme or strategy? |
| --- | --- | --- | --- |
| Plataforma de Acción Voluntaria-México / Platform for Voluntary Action in Mexico | No data | View source | |
| Programa sectoral de salud 2020-2024 | 2020 | View source | |
Does the country have a sectoral and cross-sectoral policy, scheme, plan or strategy that mentions volunteering?
No
VNR Reporting
Informe Nacional Voluntario Para El Foro Político De Alto Nivel Sobre Desarrollo Sostenible
View source
Reporting positive contribution of volunteering to the SDGs
Paragraph 1, page 39
The Voluntariado Generación 2030 app was launched in April 2018. The app is designed within the framework of a multisector partnership to help match civil society organizations and volunteers interested in contributing to achieving the SDGs. Additionally, the Directorate-General for Liaison with Civil Society Organizations (DGVOSC) of the Secretariat of Foreign Affairs organized conferences and seminars on the role of civil society in defining and adopting the 2030 Agenda. These activities resulted in the publication of the book Diplomacia Ciudadana y Desarrollo Sostenible en México [Citizen Diplomacy and Sustainable Development in Mexico].
Paragraph 2, page 40
In the last two years, this project (Voluntariado Generación 2030) has promoted the dissemination of SDGs and volunteering for development, attracting more than 1,000 young people in nine federal entities. The government of the state of Morelos is running a project named Generación 2030 to train 30 young volunteer leaders on thematic issues, cross-cutting approaches, volunteering and public policy advocacy. These leaders mobilize around 900 young people in the state, replicating and transferring their knowledge among peers. Similarly, the government of the state of Puebla, in collaboration with various sectors, organized a social innovation hackathon to redesign the state.
No mention
Reporte Nacional Para La Revisión Voluntaria De México En El Marco Del Foro Político De Alto Nivel Sobre Desarrollo Sostenible
View source
No mention No mention
Informe Nacional Voluntario 2021 Agenda 2030 en México
View source
Reporting positive contribution of volunteering to the SDGs
Paragraph 1, page 81
Until a few years ago, in Mexico sustainability was only associated with social action and corporate volunteering and, therefore, with an extra cost. However, Mexican companies are beginning to see sustainability as a strategic investment that can have a positive impact for the company.
Paragraph 2, page 92
Pages 92-93:
Volunteerism will play a key role in achieving the principles of the 2030 Agenda, since it complements the daily efforts of the more formally organized public, private and social sectors with enormous energy and a wide range of talent and experience. Volunteer spaces are extremely diverse. One such example is the space that the National Civil Protection Organization promotes through its "Preparados" platform, which allows groups of volunteers to register to support relief efforts in the event of disasters and emergencies, and provides information for the provision of humanitarian support. Another example is private non-profit institutions, whose volunteers make significant contributions to the provision of educational, health and social care services, as well as to various social activities. In 2019, according to figures from the United Nations System in Mexico, more than 2 million volunteers dedicated their time to these institutions. MY World México is another example, mobilizing people and organizations across the country around the progress and challenges of the 2030 Agenda in Mexico. Its community of over 20,000 volunteers throughout the country represents the organization in the discussion spaces of Mexico and the United Nations System. Finally, there are also university volunteers. One example is the Telehealth COVID-19 System of the School of Medicine and Psychology at the Autonomous University of Baja California, which, in coordination with the Ministry of Health and the Centre for Control, Command, Communication and Computing of the Government of the State of Baja California, mobilized more than 1,000 volunteers.
Paragraph 3, page 121
Bringing the SDGs closer to citizens through volunteering.
No mention