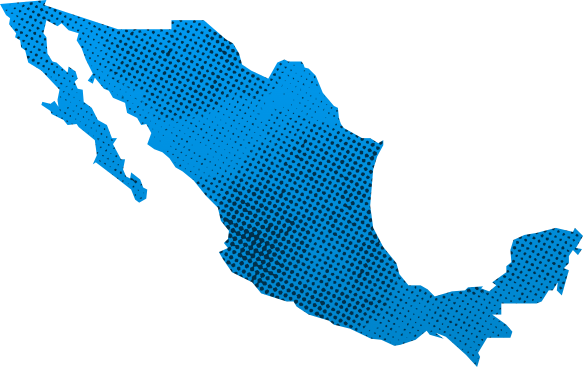 Human Development Index Ranking (UNDP, 2019)
76
Population ( UNFPA, 2019)
132.3 million
Total number of volunteers (ILO, 2018)
1,128
Direct volunteering (ILO, 2018)
No data
Organization-based (ILO, 2018)
No data
Volunteer statistics (ILO)*
Source: ILOSTATS. The data is collected by ILO from national statistical offices. As national statistics on volunteer work are produced using a variety of approaches and tools, direct and cross-country comparisons are not recommended. For more information, visit https://ilostat.ilo.org/topics/volunteer-work/
2018
Total volunteering by type
Total volunteering by age group
Total volunteering by gender
Direct volunteering by gender
Organization-based volunteering by gender
Measurement work
Data source
2007

2008

2009

2010

2011

2012

2013

2014

2015

2016

2017

2018

2019

2020

2021
Laws, Policies, Schemes on Volunteering
Does the country have a piece of legislation on volunteering?
Yes
Ley del Voluntariado del Estado de Querétaro / State Law on Volunteering in Querétaro
Does the country have a national policy, scheme, plan or strategy specific to volunteering?
Yes
| Name of specific policy, strategy or plan on volunteering at the national level. | Year created | Source link | What are the relevant SDG areas/crosscutting themes of the policy, plan scheme or strategy? |
| --- | --- | --- | --- |
| Plataforma de Acción Voluntaria-México / Platform for Voluntary Action in Mexico | No data | View source | |
Does the country have a sectoral and cross-sectoral policy, scheme, plan or strategy that mentions volunteering?
No
VNR Reporting
Informe Nacional Voluntario Para El Foro Político De Alto Nivel Sobre Desarrollo Sostenible
View source
Reporting positive contribution of volunteering to the SDGs
Paragraph 1, page 39
The Voluntariado Generación 2030 app was launched in April 2018. The app is designed within the framework of a multisector partnership to help match civil society organizations and volunteers interested in contributing to achieving the SDGs. Additionally, the Directorate-General for Liaison with Civil Society Organizations (DGVOSC) of the Secretariat of Foreign Affairs organized conferences and seminars on the role of civil society in defining and adopting the 2030 Agenda. These activities resulted in the publication of the book Diplomacia Ciudadana y Desarrollo Sostenible en México [Citizen Diplomacy and Sustainable Development in Mexico].
Paragraph 2, page 40
In the last two years, this project (Voluntariado Generación 2030) has promoted the dissemination of SDGs and volunteering for development, attracting more than 1,000 young people in nine federal entities. The government of the state of Morelos is running a project named Generación 2030 to train 30 young volunteer leaders on thematic issues, cross-cutting approaches, volunteering and public policy advocacy. These leaders mobilize around 900 young people in the state, replicating and transferring their knowledge among peers. Similarly, the government of the state of Puebla, in collaboration with various sectors, organized a social innovation hackathon to redesign the state.
Reporte Nacional Para La Revisión Voluntaria De México En El Marco Del Foro Político De Alto Nivel Sobre Desarrollo Sostenible
View source
No mention
Informe Nacional Voluntario 2021 Agenda 2030 en México
View source
Reporting positive contribution of volunteering to the SDGs
Paragraph 1, page 81
Si hasta hace unos años en México la sostenibilidad se asociaba únicamente a la acción social y al voluntariado empresarial y, por consiguiente, a un costo extra, hoy en día las empresas mexicanas empiezan a considerar a la sostenibilidad como una inversión estratégica que puede generar impactos positivos en la compañía.
Paragraph 2, page 92
Pages 92-93:
El voluntariado tiene una contribución fundamental para el avance de los principios de la Agenda 2030 en la medida en que, con enorme energía y talentos y experiencias muy diversas, complementa los esfuerzos cotidianos de los sectores público, privado y social organizados más formalmente. Los espacios de voluntariado son sumamente diversos. Un ejemplo de dichos espacios es el promovido por la Coordinación Nacional de Protección Civil (CNPC) a través de su plataforma Preparados, la cual permite a grupos de personas voluntarias registrarse para apoyar los esfuerzos de ayuda en caso de desastres y emergencias, y proporciona información para la prestación de apoyo humanitario. Otro ejemplo está en las Instituciones sin Fines de Lucro (ISFL) privadas, cuyas voluntarias contribuyen de manera importante a la prestación de servicios educativos, de salud y de asistencia social, así como en torno a diversas actividades sociales. En 2019, según cifras del Sistema de las Naciones Unidas en México, más de 2 millones de voluntarias dedicaron su tiempo a las ISFL privadas. Un ejemplo más puede encontrarse en My World México, que moviliza a personas y organizaciones en todo el país en torno a los avances y retos en la Agenda 2030 en el país. Gracias al trabajo de sus más de 20 mil personas voluntarias en todo el territorio nacional, lleva sus posicionamientos a espacios de deliberación en México y del Sistema de las Naciones Unidas. Finalmente puede mencionarse al voluntariado universitario. Un ejemplo es el Sistema de Telesalud COVID-19 de la Facultad de Medicina y Psicología de la Universidad Autónoma de Baja California que, en coordinación con la Secretaría de Salud y el Centro de Control, Comando, Comunicación y Cómputo del Gobierno de ese Estado, movilizó más de 1,000 personas voluntarias.
Paragraph 3, page 121
Acercar los ODS a la ciudadanía a través del voluntariado.