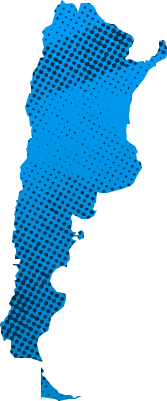 Human Development Index Ranking (UNDP, 2020)
46
Population (UNFPA, 2022)
46.0 milion
Volunteer statistics (ILO)*
Source: ILOSTATS. The data is collected by ILO from national statistical offices. As national statistics on volunteer work are produced using a variety of approaches and tools, direct and cross-country comparisons are not recommended. For more information, visit https://ilostat.ilo.org/topics/volunteer-work/
No data
Measurement work
Data source
2007

2008

2009

2010

2011

2012

2013

2014

2015

2016

2017

2018

2019

2020

2021

2022
Laws, Policies, Schemes on Volunteering
Does the country have a piece of legislation on volunteering?
Yes
Ley No. 25.855 Nacional de Voluntariado Social / National Law No. 25.855 on Social Volunteering
Does the country have a national policy, scheme, plan or strategy specific to volunteering?
No data
Does the country have a sectoral and cross-sectoral policy, scheme, plan or strategy that mentions volunteering?
No
VNR Reporting
Segundo Informe Voluntario Nacional
View source
Reporting positive contribution of volunteering to the SDGs
Paragraph 1, page 15
With this vision in mind, we are committed to further developing South-South and triangular cooperation initiatives and humanitarian aid, mobilizing our public institutions and volunteer corps.
Paragraph 2, page 46
Government Secretariat of Modernization. The Internal Communications department of the Government Secretariat of Modernization worked on Agenda 2030 adoption mechanisms linked to social responsibility in public administration. To this end, four working areas were defined: Health, Environment, Inclusion and Volunteering. These are linked to seven Sustainable Development Goals (SDGs): SDG 3 Good Health and Well-Being, SDG 5 Gender Equality, SDG 8 Decent Work and Economic Growth, SDG 10 Reduced Inequalities, SDG 11 Sustainable Cities and Communities, SDG 12 Responsible Consumption and Production and SDG 13 Climate Action.
Paragraph 3, page 229
To foster cooperation with civil society, the National Centre of Community Organizations, in the context of the action plan to strengthen Civil Society Organizations (CSOs), has held regional meetings since 2016. The goal of these meetings is to strengthen provincial public policies intended to promote an agenda of cooperation with CSOs and to foster and strengthen community volunteerism in the provinces as a tool for citizen engagement and solidarity at the heart of their communities.
No mention