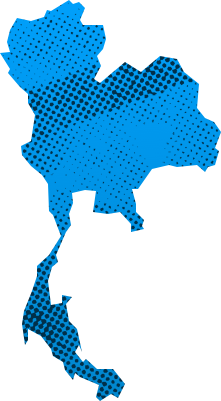 Human Development Index Ranking (UNDP, 2019)
77
Population ( UNFPA, 2019)
69.3 million
Volunteer statistics (ILO)*
Source: ILOSTATS. The data is collected by ILO from national statistical offices. As national statistics on volunteer work are produced using a variety of approaches and tools, direct and cross-country comparisons are not recommended. For more information, visit https://ilostat.ilo.org/topics/volunteer-work/
No data
Measurement work
Data source
2007

2008

2009

2010

2011

2012

2013

2014

2015

2016

2017

2018

2019

2020

2021
Laws, Policies, Schemes on Volunteering
Does the country have a piece of legislation on volunteering?
No data
Does the country have a national policy, scheme, plan or strategy specific to volunteering?
No data
Does the country have a sectoral and cross-sectoral policy, scheme, plan or strategy that mentions volunteering?
No data
VNR Reporting
Thailand's Voluntary National Review on the implementation of the 2030 Agenda for Sustainable Development
View source
Reporting positive contribution of volunteering to the SDGs
Paragraph 1, page 10
The Government is aware of the profound impact of disasters on the poor. The 2nd National Disaster Prevention and Mitigation Plan, which aims to promote resilience and mitigate disaster impacts especially on the poor and the vulnerable, is currently being drafted. At present, up to 25,915 persons in disaster-prone villages nationwide have been trained in early warning and disaster management. They are called 'Miss/Mister Early Warning'.Local volunteers have also been trained on crisis and disaster management in the efforts to build community resilience todisasters.
Paragraph 2, page 14
Thailand also provides health insurance for both documented and undocumented migrant workers including their dependents, along with a migrant health volunteer program. The migrant health volunteers are not only interpreters in health facilities but also provide health knowledge and help inform migrant communities on their rights and on hygiene and sanitation.
Paragraph 3, page 27
Today, Thailand has raised the capacity of 1,629 Local AdministrativeOrganizations to become completely self-reliant in managing energy in communities,with over 6,000 community energy volunteers delivering news and information fromthe Ministry of Energy with approximately at least 300 participants per community.
Paragraph 4, page 59
Thailand attaches great importance to mobilizing partnership fromdifferent sectors to support the country's development scheme. At present, theGovernment has a mechanism in place which promotes the involvement and strengthens the work of social enterprises, civil society organizations and volunteers.
Paragraph 5, page 61
Additionally,Thailand cooperated with UN Volunteers in holding a Conference on South-SouthExchange on Youth Volunteering for SDGs: Sharing Sufficiency Economy Philosophy and other ASEAN approaches.