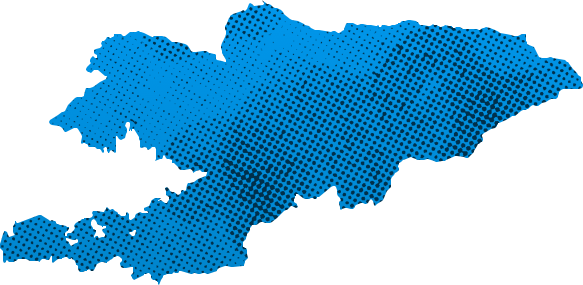 Human Development Index Ranking (UNDP, 2022)
121
Population (UNFPA, 2023)
6.7 milion
Volunteer statistics (ILO)*
Source: ILOSTATS. The data is collected by ILO from national statistical offices. As national statistics on volunteer work are produced using a variety of approaches and tools, direct and cross-country comparisons are not recommended. For more information, visit https://ilostat.ilo.org/topics/volunteer-work/
No data
Measurement work
Data source
2007

2008

2009

2010

2011

2012

2013

2014

2015

2016

2017

2018

2019

2020

2021

2022

2023
Laws, Policies, Schemes on Volunteering
Does the country have a piece of legislation on volunteering?
Yes
Law 'On Volunteering activities' of the Kyrgyz Republic (Russian)
Does the country have a national policy, scheme, plan or strategy specific to volunteering?
No data
Does the country have a sectoral and cross-sectoral policy, scheme, plan or strategy that mentions volunteering?
No
UNSDCF Reporting
THE KYRGYZ REPUBLIC: UNITED NATIONS SUSTAINABLE DEVELOPMENT COOPERATION FRAMEWORK 2023-2027
View source
Volunteering integrated into the narrative text of the UNSDCF
Volunteering integrated into the UNSDCF Results and Reporting Framework
Volunteering integrated in relation to gender equality and/or women's empowerment
Paragraph 1, page 3
With half of the population under 24, the Kyrgyz Republic is at a unique demographic juncture. Over a third of the country's population is between 15 and 25 years old (49 percent women and 51 percent men), representing a great opportunity to benefit from a demographic dividend, provided relevant policies and programmes are implemented including on health, quality education, job creation, volunteering development and investments in women and girls and good governance. Migration poses a significant challenge to the country's demography due to the especially high emigration rates of young people. With the right long-term investments, today's children, adolescents and youth can take the country to the next stage of socio-economic development.
Paragraph 2, page 39
Civil society organizations, including volunteer community-based organizations, will be one of the partners to accelerate UNSDCF results with the goals of outreach, community empowerment and ensuring human rights for the most left behind groups. Partnership with media and opinion leaders/influencers will be strengthened to foster results in conveying key messages for individual self-care and social change.
Paragraph 1, page 51
Output 1.1 Indicator (SDG 5.6.2) Laws and regulations that guarantee full and equal access to women and men aged 15 years and older to sexual and reproductive health care, information and education, as well as volunteerism.