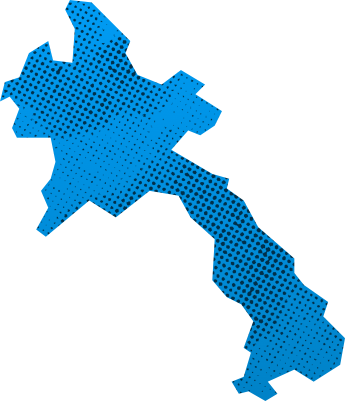 Lao People's Democratic Republic
Human Development Index Ranking (UNDP, 2019)
140
Population (UNFPA, 2019)
7.1 milion
Volunteer statistics (ILO)*
Source: ILOSTATS. The data is collected by ILO from national statistical offices. As national statistics on volunteer work are produced using a variety of approaches and tools, direct and cross-country comparisons are not recommended. For more information, visit https://ilostat.ilo.org/topics/volunteer-work/
No data
Measurement work
Data source
2007

2008

2009

2010

2011

2012

2013

2014

2015

2016

2017

2018

2019

2020

2021

2022

2023
Laws, Policies, Schemes on Volunteering
Does the country have a piece of legislation on volunteering?
No data
Does the country have a national policy, scheme, plan or strategy specific to volunteering?
No data
Does the country have a sectoral and cross-sectoral policy, scheme, plan or strategy that mentions volunteering?
No data
VNR Reporting
Voluntary National Review on the Implementation of the 2030 Agenda
View source
Reporting positive contribution of volunteering to the SDGs
Paragraph 1, page 3
Inputs from youth and volunteer groups were obtained for the VNR process. With support from development partners, several consultations on SDGs engaged volunteer groups and young people in Vientiane, Savannakhet, and Sekong provinces. The aim was to draw on volunteers' and young people's inputs to achieving the Agenda 2030.
Paragraph 2, page 3
Ways to harness the power of volunteers: The approaches discussed included partnerships with local administrations, data collection by involving youth and volunteer groups within the SDG indicator and monitoring framework; and role models for younger generations to engage in volunteer and community work.
Paragraph 3, page 3
Volunteer contributions to specific SDGs in Lao PDR: Volunteers are at the heart of the community radio project (SDGs 3, 4, 5, 10, 16). The Youth Resource Centre run by volunteers in Savannakhet works to empower vulnerable young people aged 14-22, disadvantaged families, and victims of human trafficking.
Paragraph 4, page 17
Strategies to reach the most vulnerable groups need to consider what has worked. Community radio volunteer broadcasters in Xieng Khouang, Sekong, Oudomxay and other provinces and relevant districts have been able to reach vulnerable groups, especially women and girls, with radio installed in mobile phones
Paragraph 5, page 20
Strengthening service delivery to the most deprived, using participatory strategies. Such strategies involve empowering village health volunteers, farmer groups, and village extension workers with the required knowledge and support.
No mention
Lao People's Democratic republic Voluntary National Review on the Implementation of the 2030 Agenda for Sustainable development
View source
Reporting positive contribution of volunteering to the SDGs
Reporting on volunteering connected to matters of gender equality, women's empowerment or similar
Paragraph 1, page 16
Pages 16-17:
Inputs from youth, volunteer groups and Lao civil society: As youth make up more than half of the Lao population and the majority of volunteers in the Lao PDR are youth, it is imperative that their perspectives are taken into account when evaluating the Lao PDR's progression towards achieving the 2060 Agenda and thereby contribute to the country's development over the coming years. Some of their volunteering activities that have contributed to SDGs include: Advocating for capacity building for a community on poverty reduction and socio-economic development (SDG 1);
- Providing food supplies to primary schools in remote and rural communities (SDG 2);
- Assisting in raising awareness on reproductive health for youths and guiding them to reliable sources of information at Vientiane Youth Center (SDG 3);
- Promoting reading for children, providing learning materials, assisting in school construction, and volunteering to teach young children in rural communities (SDG 4);
- Conducting activities to promote gender equality (SDG 5);
- Providing academic and career planning advice for youths in schools and career expos (SDG 8);
- Conducting a workshop on inclusion and access for people with disabilities, and advocating for equality for LGBTQ+ (SDG 10);
- Volunteering in the Second-Hand World project, a UNDP award winning project aiming to promote circular economy (SDG 1, 12 & 13);
- Conducting skill development workshops on climate change awareness for youths in communities and joining awareness raising campaigns on environmental issues (SDG 13);
- Providing legal advice (SDG 16); and
- Advocating for community involvement in community development activities (SDG 17 and SDG 18).
Realising their contributions, the Government in collaboration with some key partners organised a series of discussions with volunteer groups, young people and civil society on the SDG implementation as a follow up from the first VNR. Some of key recommendations from youth, volunteer and Lao civil society discussions are highlighted as follow (key recommendations are those relating on the key selected SDGs for this VNR. For other SDGs, key recommendations are to be highlighted during meeting of SDG focal points as follow up activities after this VNR): [...]
Paragraph 2, page 19
Encourage youth to volunteer more to increases self-confidence and provide safe space for youth to raise their voices and express their opinion;
Paragraph 3, page 20
Support volunteers so they can add their valuable contribution to SDG implementation.
Paragraph 4, page 97
Involvement of youth and volunteers in a systematic way to implement and monitor the progress of SDGs will ensure the participation and contribution of all partners in the society to achieve the SDGs.
No mention
UNSDCF Reporting
Lao PDR - United Nations Sustainable Development Cooperation Framework 2022-2026
View source
Volunteering integrated into the narrative text of the UNSDCF
Paragraph 1, page 22
If labour, trade, and inclusive and sustainable industrial development policies are better designed,
synthesized and accompanied, based on efficient partnerships between the public and the private sector, for poverty reduction, equal opportunity, better linkages between the supply and demand of labour, jobs creation and income generation, population and migration dynamics, skills and productivities improvement, and lifelong learning (with specific attention to the youth, women, volunteers, informal, unpaid and migrant workers).
No mention