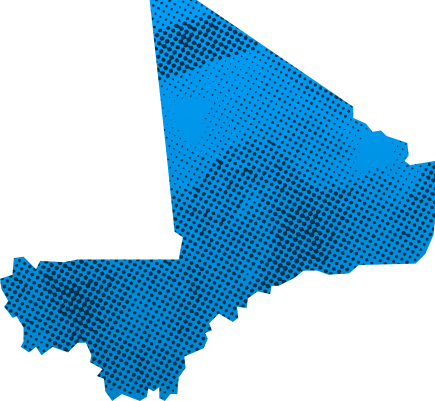 Human Development Index Ranking (UNDP, 2020)
184
Population ( UNFPA, 2021)
20.9 milion
Volunteer statistics (ILO)*
Source: ILOSTATS. The data is collected by ILO from national statistical offices. As national statistics on volunteer work are produced using a variety of approaches and tools, direct and cross-country comparisons are not recommended. For more information, visit https://ilostat.ilo.org/topics/volunteer-work/
No data
Measurement work
Data source
2007

2008

2009

2010

2011

2012

2013

2014

2015

2016

2017

2018

2019

2020

2021
Laws, Policies, Schemes on Volunteering
Does the country have a piece of legislation on volunteering?
Yes
Law No. 011-52 establishing the National Center for the Promotion of Volunteering in Mali and Decree No. 579-PRM fixing its modality of operation.
Does the country have a national policy, scheme, plan or strategy specific to volunteering?
Yes
| Name of specific policy, strategy or plan on volunteering at the national level. | Year created | Source link | What are the relevant SDG areas/crosscutting themes of the policy, plan scheme or strategy? |
| --- | --- | --- | --- |
| Politique Nationale de Volontariat | 2018 | View source | |
Does the country have a sectoral and cross-sectoral policy, scheme, plan or strategy that mentions volunteering?
No
VNR Reporting
Rapport National Volontaire Sur La Mise En Œuvre Des Objectifs De Developpement Durable
View source
Reporting positive contribution of volunteering to the SDGs
Paragraph 1, page 28
In addition, as part of the campaign for the United Nations SDGs, the Government of Mali launched the My World 2030 survey to take into account the preoccupations of ordinary citizens in the implementation of the 2030 Agenda. The study was launched in all regions of Mali in May 2018 with the support of civil society organizations and coalitions: the National Council for civil society, the Forum of International NGOs in Mali, and the Forum of Organizations of civil society in Mali. More than 500 volunteers participated in the implementation of the study. In addition, the SDG Action Campaign recruited 50 online volunteers from a dozen countries to ensure the seizure of electronic data.