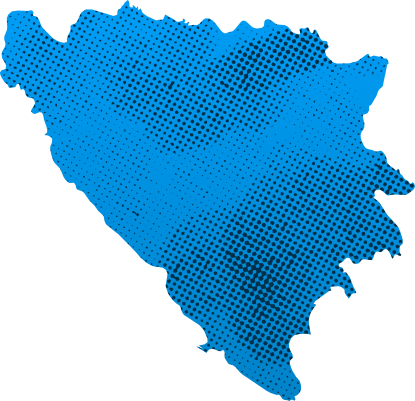 Human Development Index Ranking (UNDP, 2022)
73
Population (UNFPA, 2023)
3.2 milion
Volunteer statistics (ILO)*
Source: ILOSTATS. The data is collected by ILO from national statistical offices. As national statistics on volunteer work are produced using a variety of approaches and tools, direct and cross-country comparisons are not recommended. For more information, visit https://ilostat.ilo.org/topics/volunteer-work/
No data
Laws, Policies, Schemes on Volunteering
Does the country have a piece of legislation on volunteering?
Yes
Federation of Bosnia-Herzegovina Law on Volunteering
Yes
Republic of Srpska Law on Volunteering
Does the country have a national policy, scheme, plan or strategy specific to volunteering?
No data
Does the country have a sectoral and cross-sectoral policy, scheme, plan or strategy that mentions volunteering?
No
VNR Reporting
Voluntary Review - Implementation of Agenda 2030 and the Sustainable Development Goals in Bosnia and Herzegovina
View source
Reporting positive contribution of volunteering to the SDGs
Reporting on volunteering connected to matters of gender equality, women's empowerment or similar
Paragraph 1, page 37
Through consultations, it was evident that volunteering plays a crucial role in both community development and the personal growth of volunteers. Volunteering brings people together, enhances social skills, expands networks, and contributes to the well-being of the community. While the percentage of young people engaged in volunteer activities in BiH has increased to 13.8%, it remains
lower than the EU average of 25%. Although the Law on Associations and Foundations recognizes the significance of volunteering, there is still room for improvement through the development of policies that support and facilitate volunteering initiatives. Volunteerism in BiH has made significant contributions to the achievement of multiple SDGs such as Good Health and Wellbeing, Quality Education, Gender Equality, and Partnerships. Key organizations like the Red Cross, Proni, Jadar, Viktorija, CURE Foundation, Women's Network, and the Youth Communication Center (YCC) have played vital roles in promoting volunteerism and making meaningful contributions towards various SDGs in the country. Their initiatives, along with other notable practices, encompass youth development, healthcare services for refugees and migrants, raising awareness about health issues and blood donation, advocating for feminist values, promoting healthy lifestyles, combating peer violence, and establishing Volunteer Centers in different cities.
Paragraph 2, page 85
The municipality of Prozor-Rama carries out activities on the promotion of socially useful activities among young people, with an emphasis on improving the quality of life of the elderly in need through the project "Youth for The Elderly," implemented by the "Red Cross Prozor-Rama" Association, with the support of the ReLoad programme. One of the main goals of this project was to establish a Volunteer Service for Young People, and it resulted in ten young volunteers regularly visiting 16 elderly people in their homes to support them in doing house chores, cooking meals, going for grocery shopping, visiting a doctor, socializing, and carrying out other activities.
Paragraph 3, page 101
The "Let's Do It" project in BiH, which is implemented by the Sarajevobased Citizen Association "Ruke" and the Banja Luka-based Citizen Association "Mosaic of Friendship," has engaged 206,981 volunteers since 2012 to clean up illegal landfills and plant trees. Volunteers removed around 16,370 tons of waste and planted 485,716 different tree seedlings. The project organized two volunteer actions – "Let's Do It - Clean the Country in One Day" and "Let's Do It - One Million Seedlings in 1 Day" - in 115 municipalities and planned to include all municipalities in BiH. The project is part of the global movement "Let's Do It World" with 113 participating countries and over 18,000,000 volunteers.
No mention